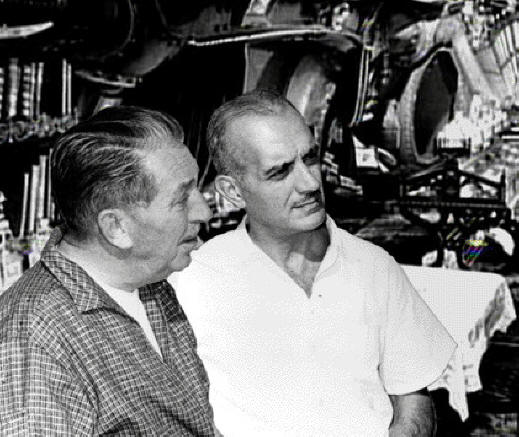 About Emile Kuri

Emile Kuri is honored with windows on Main Street, USA, at both Disneyland and WDW's Magic Kingdom. The Academy Award winning set decorator and production designer's vivid imagination left it's mark on Walt Disney's classic motion pictures and at the Disney theme parks. Hired by Walt Disney in 1952 as chief decorator for Disney Studios, one of Emile Kuri's first achievements was the decor of Captain Nemo's submarine headquarters for for the Disney movie ''20,000 Leagues Under the Sea.'' Kuri won the Oscar for set decoration on that film and was nominated for other Disney films including ''Bedknobs and Broomsticks,'' ''The Absent-Minded Professor'' and ''Mary Poppins.'' (During his illustrious career he received a total of eight Oscar nominations and received two Oscars, plus an Emmy for his designs for the television show ''Walt Disney's Wonderful World of Color.'')
It was Kuri who bought Baltimore's old gas lamps to line Disneyland's Main Street; Kuri designed Town Square's horse head hitching posts (found at both Disneyland and WDW); he decorated the below-deck area of the Columbia sailing ship; the interior of Walt Disney's Disneyland firehouse apartment was Kuri's work, as was the interior of the "Great Moments With Mr. Lincoln" theater in the Main Street Opera House. According to Disney historian Jim Korkis, "For the Plaza Inn, Walt wanted authentic antiques to augment the Victorian interior," said Kuri, "We purchased hundreds of rare furnishings, including crystal chandeliers and sconces from Paris, antique mirrors from New Orleans, valuable paintings and rare cabinets from Europe, and many, many other items. The place is done to perfection, but then, so is everything that Walt has anything to do with."
Kuri got his first film job from the director Hal Roach on the 1937 comedy ''Topper.'' He worked with Alfred Hitchcock on the sets for ''Spellbound,'' ''Rope'' and ''The Trouble With Harry'' and on George Stevens's ''Shane'' and ''Place in the Sun.'' His credits also included ''It's a Wonderful Life,'' directed by Frank Capra; he designed the Main Street setting of Jimmy Stewart's hometown. Despite working with those Hollywood legends, Kure maintained "Working with Walt Disney was like working in another world. He was the most fascinating and dedicated man I knew."