Walt Disney Autographed
Cinderella Print of Jaq & Gus

Cinderella couldn't ask for two more loyal friends than Jaq and Gus. This beautiful dye-transfer print, personally autographed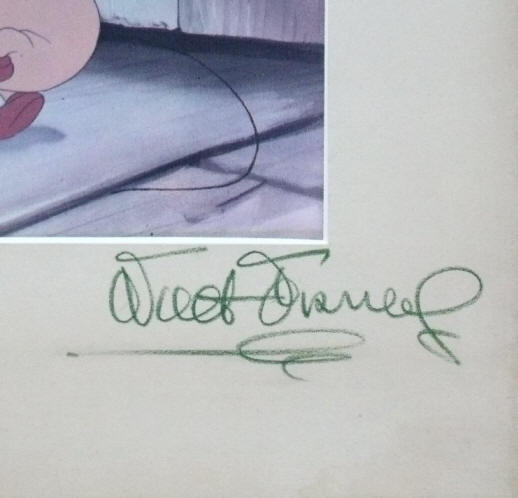 by Walt Disney, is ready to be the star of your Disney collection! Back in Walt's day the Disney Studio made these high quality dye-transfer prints to give as high-end promotional items. Dye-transfer prints capture all the vibrant colors of the original cels (and are often mistaken for cels). Many of these prints went unsigned, others were signed by Disney employees signing on behalf of their busy boss, and a rare few- such as this wonderful piece- were personally autographed by Walt Disney. It is especially nice- and adds to the value- that this one is not inscribed (does not read "To Frank," etc.).
The style of Walt Disney's signature dates indicates this piece was signed about the same time as the original release of the film in 1950. Today these prints are prized by collectors as one of the most attractive and displayable of all Walt Disney autographed items. Cinderella is the quintessential Disney classic, making this autographed print highly desirable.

This unframed matted piece measures approximately 16" x 14". It looks so clean and so fresh because the mat was professionally cleaned and the backing was replaced with acid-free archival materials to preserve it for future generations by art conservator Lisa Duncan (http://lisaduncanllc.com). Some light staining remains on the bottom of the mat (about 4" from the left edge); otherwise spectacular conditon. Includes the Phil Sears Collectibles Lifetime Guarantee of Authenticity. What a showpiece! Item # 2630
SORRY, SOLD
Special U.S. shipping charge on this item $24.95. Foreign shipping $59.95. Automatic checkout will not calculate foreign shipping accurately. After you place your order we will email foreign customers for additional shipping payment.

*Do not use the "Add To Cart" button if you wish to pay using our 10 month lay-away payment plan. Instead CLICK HERE to learn about lay-aways and to use the manual order form. Most orders totaling $149 or more can be placed on lay-away. Lay-Away does not require credit and is not the same as PayPal Credit (see banner ad below).