1936 Polo Game Program
Autographed by Walt Disney & Hollywood Stars
As a young, successful producer, Walt Disney loved to play polo with the Hollywood elite. He even made a movie about Hollywood polo, "Mickey's Polo Team," (made the very same year this program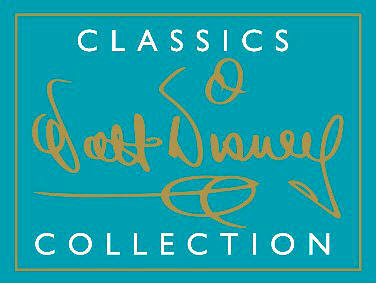 was autographed). This 1936 celebrity charity "Third Annual Motion Picture Polo Game" program has been signed by Walt Disney and many other Hollywood stars in attendance, including Joan Crawford, Barbara Stanwick, Jack Holt, Gloria Swanson, Heather Angel, Joe King, Big Boy Williams, Joe E. Brown, Frank Borzage, Franchot Tone, Hap O'Connor, Johnny Mack Brown, Harvey Gates, Charles Farrell, and Ralph Forbes.
Signed in June of 1936, this is a rare early Walt Disney autograph dating from the time he was busy making "Snow White and the Seven Dwarfs," his first full length movie. This early style of Walt's cursive autograph is the type used as the logo of the Walt Disney Classics Collection (as shown at right). Unfortunately, a polo injury would cause Walt to give up the sport, and the injury bothered his back and neck for the rest of his life.
Program contains approximately 16 pages of game info and advertising sponsored by the stores and services that catered to the Hollywood crowd at the time. Measures approximately 12" x 9". In fine condition. Includes the Phil Sears Collectibles Lifetime Guarantee Certificate. Item # 5101
About $/Month on Lay-Away!*
U.S. shipping charge on this item $14.95. Foreign shipping $29.95. Automatic checkout will not calculate foreign shipping accurately. After you place your order we will email foreign customers for additional shipping payment.
*Do not use the "Add To Cart" button if you wish to pay using our 10 month lay-away payment plan. Instead CLICK HERE to learn about lay-aways and to use the manual order form. Most orders totaling $149 or more can be placed on lay-away. Lay-Away does not require credit and is not the same as PayPal Credit (see banner ad below).