Important Walt Disney
Disneyland Railroad/Monorail Imagineering Document
It's no secret that Walt Disney loved trains, but some may not know that during the early years Disneyland did not own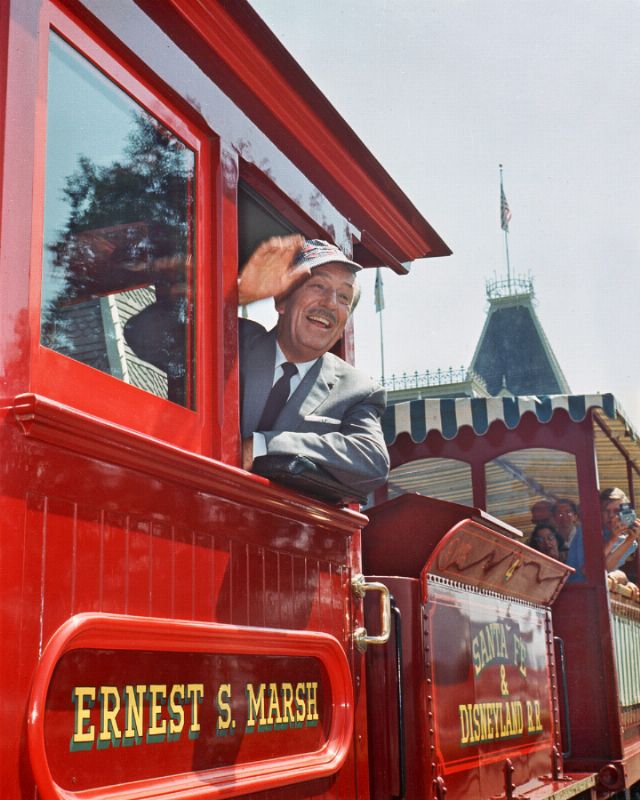 or operate the Disneyland Railroad or the Monorails. Both attractions were owned and operated by Walt's separate company, WED Enterprises. WED (today renamed Walt Disney Imagineering) is the company Walt Disney set up to design and build his theme parks. A separate legal entity from Walt Disney Productions and Disneyland Inc., in the 1950's and 60's WED was very close to Walt Disney's heart as the workshop that created his visions in three dimensions for Disneyland and later Walt Disney World. Walt even gave the company his initials as it's corporate name.
Since WED and not Disneyland owned the Monorail and Steam Trains at Disneyland, formal leases were negotiated between the two corporations. In this very important signed four page document Walt Disney- as Chairman of the Board of WED Enterprises- certifies the minutes of a meeting of the WED board, allowing WED to approve the lease for the brand new Monorail system and a renegotiated lease for the Disneyland Railroad trains.
Highlights of this four page document include:
-Officers of WED have negotiated a lease with Disneyland, Inc.
for the installation and operation of the monorail trains at Disneyland.
-WED has also negotiated a new lease with Disneyland
for the operation of the 5/8's scale train at the park.
-Bank of America has agreed to loan WED up to
one million dollars for the construction of the monorail system.
While the Disneyland Railroad was the first attraction to be completed during the construction of Disneyland in 1954-1955, the Disneyland monorail system was added in 1959, with this document being part of the legalities necessary to make that a reality. Of course, the railroad and Monorail remains a fixture at Disneyland and Walt Disney World today.
Boldly signed by Walt Disney at conclusion, and counter-signed by Royal Clark, secretary of WED corporation. Binder holes at left margin; in very fine condition. AN EXTREMELY RARE AND IMPORTANT DISNEYLAND ATTRACTION DOCUMENT. Includes the Phil Sears Collectibles Lifetime Guarantee of Authenticity. Item # 2532A,
SORRY, SOLD
*Do not use the "Add To Cart" button if you wish to pay using our 10 month lay-away payment plan. Instead CLICK HERE to learn about lay-aways and to use the manual order form. Most orders totaling $149 or more can be placed on lay-away. Lay-Away does not require credit and is not the same as PayPal Credit (see banner ad below).



Special U.S. shipping charge on this item $24.95. Foreign shipping $59.95. Automatic checkout will not calculate foreign shipping accurately. After you place your order we will email foreign customers for additional shipping payment.