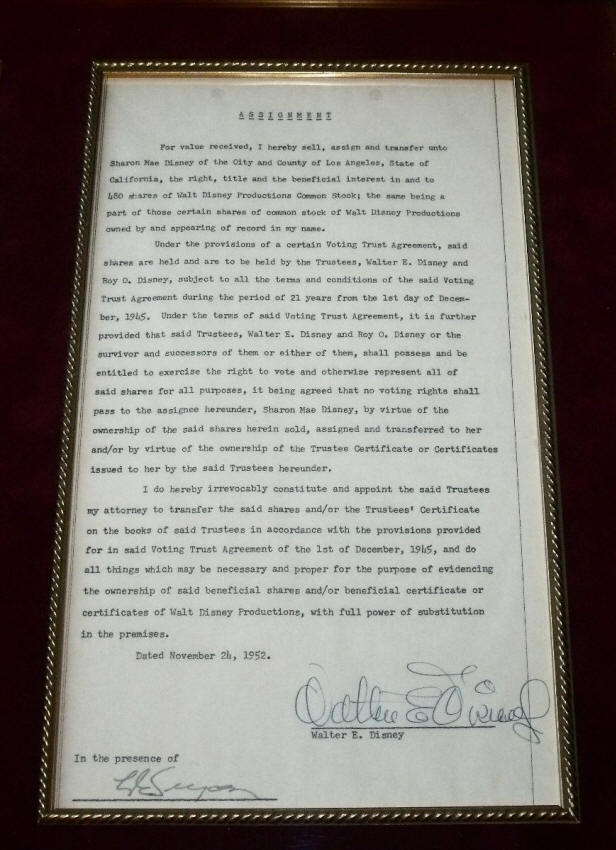 Walt Disney Gives Company Stock to His Daughter

In this November 24, 1952 legal document signed by Walt Disney, Walt transfers 480 shares of Walt Disney Productions stock to his daughter Sharon Disney. The document has an original, bold, ink signature of Walt Disney using his full "Walter E. Disney" legal name. Walt Disney has been quoted as saying his proudest career achievement was building an organization and holding onto to it. Here he passes on a piece of that organization to one of his daughters.

This beautifully framed showpiece was originally purchased at Walt Disney World, directly from the Walt Disney Company. The original Sid Cahuenga's One-of-a-Kind shop price tag is still attached. Sid Cahuenga's was a Disney-owned store just inside the gates of Disney's Hollywood Studio.

Attached to the back is the original Walt Disney World authenticity label which states: "This certifies that this autograph article has been examined and it is the opinion of the Walt Disney World Co. that this item is authentic..." Also included is a Letter of Authenticity from Walt Disney Parks & Resorts. (Letter is mounted on cardboard.) Also i

ncludes the Phil Sears Collectibles Lifetime Guarantee of Authenticity.

Measures approximately 25" x 21' overall. A ready-to-hang gem directly from the Walt Disney Company!

Item # 2693


SORRY, SOLD

Special U.S. shipping charge on this large item $39.95. Foreign shipping $99.95. Automatic checkout will not calculate foreign shipping accurately. After you place your order we will email foreign customers for additional shipping payment.


*Do not use the "Add To Cart" button if you wish to pay using our 10 month lay-away payment plan. Instead CLICK HERE to learn about lay-aways and to use the manual order form. Most orders totaling $149 or more can be placed on lay-away. Lay-Away does not require credit and is not the same as PayPal Credit (see banner ad below).