Walt Disney Signed 1965 Letter
From the desk of Walt Disney! Written on his personally embossed stationery, in this 1965 letter Walt Disney thanks the president of Arctic Cruise Lines for inviting him to go fishing, but says he won't have enough time. Walt is going to Canada to be Grand Marshal of the Calgary Stampede Rodeo. (An internet photo of Walt Disney in the parade at the Stampede is shown below.)

Just a few months before this letter was written, Walt Disney's MARY POPPINS won 5 Academy Awards. The letter was written at time when Walt is busy with huge expansion plans for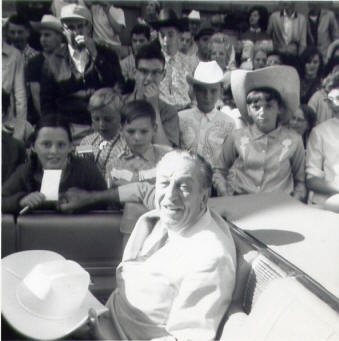 Disneyland. New Orleans Square, including the epic Pirates of the Caribbean attraction are on the drawing boards.
Letter is in excellent condition with only the original mailing folds and two files holes at top; measures approx. 10.5" x 7.25". Walt Disney has vibrantly signed his name in blue ink. Includes the Phil Sears Collectibles Lifetime Guarantee of Authenticity. Also included is an 8" x 10" photograph of Walt Disney suitable for framing, shown above. Item # Item # 2668
SORRY, SOLD

*Do not use the "Add To Cart" button if you wish to pay using our 10 month layaway payment plan. Instead CLICK HERE for the layaway order form. Most orders totaling $149 or more can be placed on layaway. layaway does not require credit and is not the same as PayPal Credit (see banner ad below).
Special U.S. Shipping charge on this item $14.95. Foreign shipping $39.95. Automatic checkout will not calculate foreign shipping accurately. After you place your order we will email foreign customers for additional shipping payment.