Walt Disney Autographed Private Plane Menu
One of Walt Disney's neighbors at his Smoke Tree Ranch vacation home was Donald Gilmore, the president of Upjohn Pharmacy. The men were friends, and Gilmore's Upjohn Company sponsored a pharmacy on Disneyland's Main Street, USA. This autograph was obtained when Walt visited Gilmore's car collection in Kalamazoo, Michigan. Traveling by corporate airplane, Walt was presented with this typed list of menu choices prior to his return flight. After making his choice-- fried chicken-- Walt graciously autographed it for a hotel employee. Included is an email from previous owner:
"... I received this menu from my Aunt in September of 1964 after Walt Disney came to Battle Creek, Michigan to visit Donald Gilmore in Kalamazoo... He stayed at the Brook Lodge in Battle Creek, Michigan during his visit and was given a paper menu with 6 items to chose from for his return flight to his home on a Sunday. My Aunt worked at the Brook Lodge at that time and was given the menu and she gave it to me shortly after receiving it. I have kept this in my scrap book all these years..."
You can read more about Walt Disney and Kalamazoo HERE.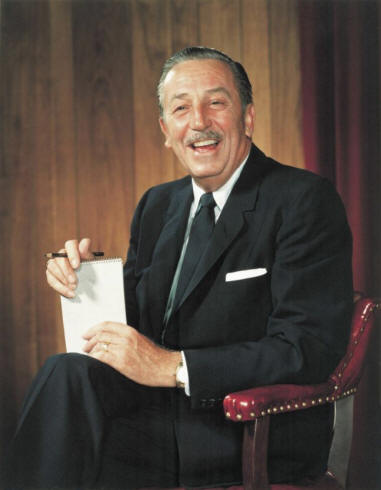 The Value of Provenance
One of the things I strive for on this website is to offer Walt Disney autographed items with the history preserved along with them. If you ever part with a Disney autograph, you'll receive a higher price if you have documentation detailing the history. But in the meantime you'll enjoy it in your own collection that much more when you know the background. That's so much more interesting than a signature on a piece of paper with no history. Not to mention what it says about the authenticity of an item when you are provided with names of the people who preserved it all these years- the paper trail.
Sheet measures approximately 6" X 4" and is attached to the trimmed scrapbook page the previous owner mentioned. Includes a color 8" X 10" photograph suitable for framing (shown at right). Also includes the Phil Sears Collectibles Lifetime Guarantee of Authenticity and the email from the previous owner. Item # 6917b
SORRY, SOLD 3-26-17 12:49 PM PT
*Do not use the "Add To Cart" button if you wish to pay using our 10 month lay-away payment plan. Instead CLICK HERE to learn about lay-aways and to use the manual order form. Most orders totaling $149 or more can be placed on lay-away. Lay-Away does not require credit and is not the same as PayPal Credit (see banner ad below).
Special U.S. shipping charge on this item $15.95. Foreign shipping $39.95. Automatic checkout will not calculate foreign shipping accurately. After you place your order we will email foreign customers for additional shipping payment.