Rare Walt Disney Autographed 1930s Mickey Mouse Photograph!
Walt Disney autographed photos from the 1930s are rare. Walt Disney first hosted his Sunday night TV show in 1954 and that's when autograph requests really starting pouring in. Before that, Walt wasn't an on-camera personality and wasn't asked for his autograph as often, making signed photographs from the 1930s "rare gems" that are now extremely sought-after by collectors.
Walt has signed in bold black fountain pen ink:
"Best Wishes from Walt Disney"

Walt appears to be no more than 35 years old in the photo. This would have been signed at the old Hyperion Avenue "Mickey Mouse & Silly Symphony Sound Cartoons" studio (as shown at right). Even more rare are signed photos of Walt featuring Mickey Mouse! Everything about it is special: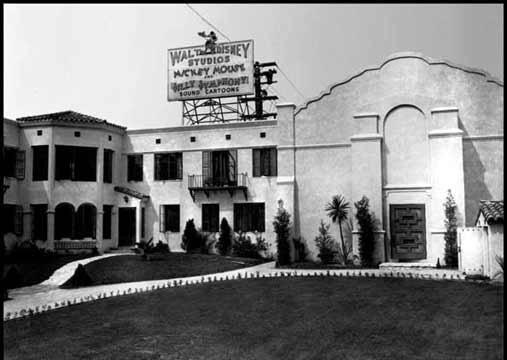 -Rare 1930's vintage!
-Walt's most famous character Mickey Mouse is in the photo!
-The photo is not personalized ("To Bob"/"To Sue" for example)!
-The photo is in very fine condition!
-Lifetime Guarantee of Authenticity!
Also includes an brief email from the former owner saying he found it in his father's collection. In exceptional condition with only minor creases at corners (entirely in the white margin). This photo will make the owner the envy of every Walt Disney fan. # 7463
SORRY, SOLD 7-20-17 11:03 AM PT

About /Month on layaway!*
*Do not use the "Add To Cart" button if you wish to pay using our 10 month layaway payment plan. Instead CLICK HERE for the layaway order form. Most orders totaling $149 or more can be placed on layaway. Layaway does not require credit and is not the same as PayPal Credit (see banner ad below).
Special U.S. insured shipping charge on this item $19.95. Foreign shipping $39.95. Automatic checkout will not calculate foreign shipping accurately. After you place your order we will email foreign customers for additional shipping payment.