Walt

Disney

Autographed Disneyland Postcard

Walt Disney has autographed this Disneyland postcard directly above his Disneyland opening day dedication speech: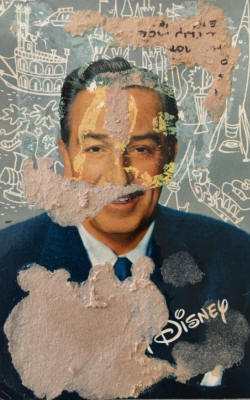 "Disneyland is dedicated to the ideals,
the dreams and the hard facts that have created America…
with the hope that it will be a source of joy and inspiration to all the world."

Walt Disney's autograph is under an image of Mickey Mouse, his most famous character. The postcard had been glued into a scrapbook and heavy remnants remain-- see image at left; this side of the postcard won't show if framed. I've included an identical, clean postcard suitable for displaying the side with Walt's image (shown above right).

Includes the Phil Sears Collectibles Lifetime Guarantee of Authenticity.

Autographed Disneyland postcards are very rare. Item

# 7665,


SORRY, SOLD



*Do not use the "Add To Cart" button if you wish to pay using our 10 month layaway payment plan. Instead CLICK HERE for the layaway order form. Most orders totaling $149 or more can be placed on layaway. Layaway does not require credit and is not the same as PayPal Credit.

*Special U.S. shipping charge on this framed item $19.95. Foreign shipping $49.95. Automatic checkout will not calculate foreign shipping accurately. After you place your order we will email foreign customers for additional shipping payment.