"Walt Disney - The Art of Animation"
Autographed by Walt Disney to an Important Disney Executive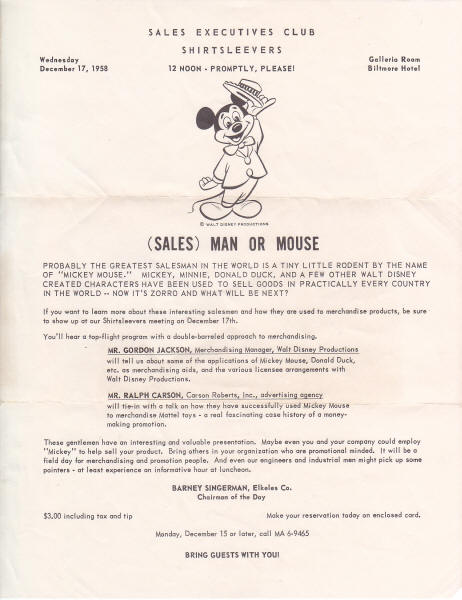 Published in 1958, "Walt Disney- The Art of Animation" is the Bob Thomas's fascinating journey through the Walt Disney Studio's process of taking a project from the notion of an idea to a fully rendered animated motion picture. Thomas follows Walt Disney and his artists through the creation of the Disney classic "SLEEPING BEAUTY."
Walt Disney has boldly autographed this edition in bold black ink
"To Gordon / My Best / Walt"!
Gordon Jackson was extremely important to the Disney company at this time-- he was Manager of Merchandising. With the licensing of Disney characters and films being an absolutely huge revenue stream for Disney even back in the 1950's, Gordon Jackson was one of Walt Disney's critical right-hand men. Two bonus items are included with this Walt Disney autographed book: A 25+ page Worldwide Merchandising Report for Walt Disney Productions for the late 1950's showing the money made from each major country from Disney merchandise (the cover states it was prepared by Gordon Jackson) and a one page announcement of a sales conference in which Gordon Jackson is listed as the featured speaker from Walt Disney Productions (shown at left).
The book is in very fine condition, extremely solid and with only minor soiling on the bottom edge of the cover (see photo above). Dust jacket is worn but present. More photos from inside the book are shown below. Book is a hefty coffee table size (11.5" X 8.5"). Includes the Phil Sears Collectibles Lifetime Guarantee of Authenticity. Item #7199, $2995
About $299/Month on layaway!*
SORRY, SOLD
*Do not use the "Add To Cart" button if you wish to pay using our 10 month layaway payment plan. Instead CLICK HERE
for the layaway order form. Most orders totaling $149 or more can be placed on layaway. Layaway does not require credit and is not the same as PayPal Credit.
Special U.S. Shipping charge on this item $19.95. Foreign shipping $49.95. Automatic checkout will not calculate foreign shipping accurately. After you place your order we will email foreign customers for additional shipping payment.