Walt Disney Autographed Disneyland Ticket Book
Disneyland ticket books autographed by Walt Disney are extremely rare. The fact is Walt Disney didn't sign a lot of autographs at Disneyland because the crowds of fans could quickly bog him down. This ticket book, however, was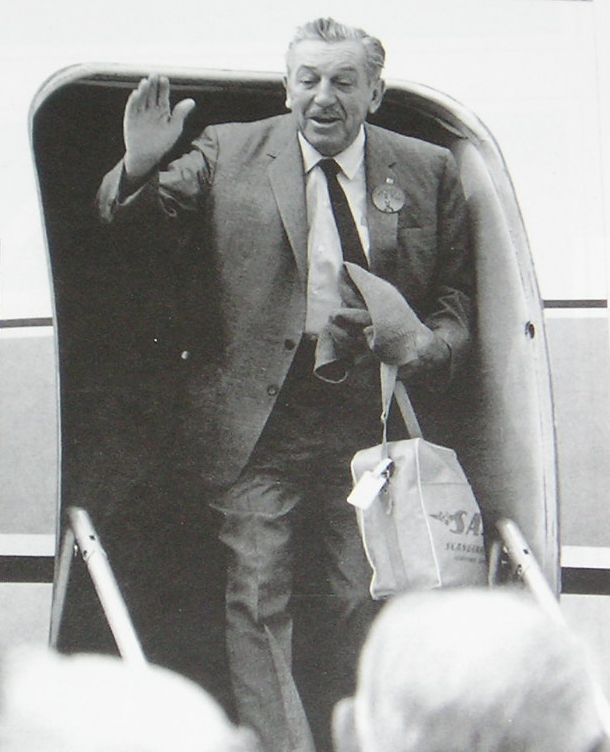 among those Walt Disney carried with him on a trip to Europe to give as gifts. This one was was given to a cockpit crewman on Scandinavian Airlines. Included is an email from with the history of the signed ticket book. (The former owner is Swedish, and his English spelling and grammar have not been altered):
... I have a former working colleague name Staffan Eriksson, His father was a pilot back in 50-60. And during one of the flights in europa(we can only guess it would have been 56-59) one of the crew members came upp to his father and told hin that Walt Disney was one of the passengers and told him that he should go and ask Walt for his autograph. But he was littel busy and most likly didnt understand how famues Walt was, so he said no but the crew member insisted so Staffans father send the crew memeber back with his buissnes card to Wright the autograph on. The crew member came back with not only one autograph, he came back with Three autographs...
Please note, while the email mentions several items, only the one ticket book item pictured on this page is included in this sale. The email takes a guess that the autograph is from the late 1950's, but the code date of the ticket book confirms it is from 1964. The photo at the left, found on the internet, likely shows Walt Disney during the same trip as he waves from the doorway of a plane carrying a Scandinavian Airlines flight bag. It's possible it was the crew of this very plane to whom Walt gave this autographed ticket book. It was June of 1964 and Walt Disney visited Tivoli Gardens amusement park in Denmark.
Ticket book measures 6" long and is in very fine condition, with all tickets attached. Includes the Phil Sears Collectibles Lifetime Guarantee Certificate. Also includes an 8" x 10" color photo suitable for framing. Item # 6054B
SORRY, SOLD
*Do not use the "Add To Cart" button if you wish to pay using our 10 month layaway payment plan. Instead CLICK HERE for the layaway order form. Most orders totaling $149 or more can be placed on layaway. Layaway does not require credit and is not the same as PayPal Credit.
U.S. shipping charge on this item $19.95. Foreign shipping $39.95. Automatic checkout will not calculate foreign shipping accurately. After you place your order we will email foreign customers for additional shipping payment.