Surveying the Magic Kingdom that sprang from his unparalleled imagination, Walt Disney strolls through the gates of Sleeping Beauty Castle at Disneyland® park, surrounded by dozens of his most endearing characters.

For Walter Elias Disney, ''once upon a time'' began on December 5, 1901, and in honor of the centennial of his birth in 2001 Disney released this limited-edition sericel. An extraordinary number of Walt Disney's most delightful characters -- 64 in all -- are featured in this HUGE specially prepared sericel. The breadth of Walt's decades-spanning career is depicted -- from Mickey Mouse to Walt's first animated feature, ''Snow White and the Seven Dwarfs'' (1937) through the last film he was directly involved with, ''The Jungle Book'' (1967).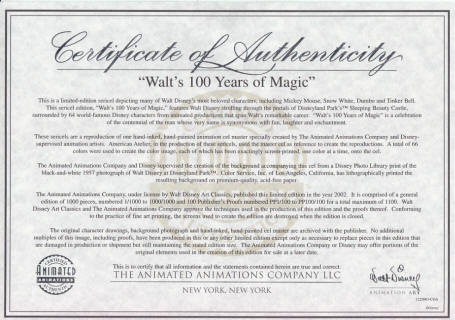 These character images were created using the fine art screen-printing process of color reproduction known as serigraphy. Artists at the Walt Disney Studio's Ink & Paint Department specially created a hand-inked, hand-painted animation cel which was used as reference in the production of these sericels. Sixty-six colors, an unprecedented amount for a Disney sericel, were exactingly printed, one color at a time, onto each cel. The lithographic background is a reproduction of the historic black-and-white 1957 photograph of Walt Disney. ''Walt's 100 Years of Magic'' is hand-numbered and arrives in a specially selected frame.
Included is a beautifully designed legend listing all the characters in the piece. Sericel is framed under Plexiglas with a beveled, acid-free paper mat. It's enormous, measuring 43" X 35" overall, with a 34'' x 26'' image size. Includes the Disney company Certificate of Authenticity. Limited Edition of 1000; this is #60. In new condition. Item #7478, $1995
SORRY, SOLD 10-19-19
About $199/Month on layaway!*
*Do not use the "Add To Cart" button if you wish to pay using our 10 month layaway payment plan. Instead CLICK HERE for the layaway order form. Most orders totaling $149 or more can be placed on layaway. Layaway does not require credit and is not the same as PayPal Credit.
Insured U.S. shipping on this very large item $75. Sorry, no foreign shipping on this oversized item.