Walt Disney Autographed Sorcerer Mickey Cel-
Not a Print!

Walt Disney has personally autographed the matte of this rare and beautiful original hand-painted cel of FANTASIA's Sorcerer Mickey. Disney Studio cels of Mickey Mouse as seen in the Sorcerer's Apprentice sequence of the Walt Disney classic motion picture FANTASIA are extremely rare. And autographed by Walt Disney they are all but non-existent.
FANTASIA was a motion picture milestone. The day after the première the NEW YORK TIMES said "Motion history was made last night...Fantasia dumps conventional formulas overboard and reveals the scope of films for imaginative excursion...Fantasia...is simply terrific."
This amazing piece was given by Walt Disney to writer John Parris. You can read more about Parris further down this page. Included is an email from the previous owner which reads (in part):
"...

I have a cel from Fantasia that was sent to late family friend, John Parris, who was a reporter, editor, and writer of some regional fame in western North Carolina. John covered the filming of The Great Locomotive Chase and advised the Disney company of locations around WNC. Somewhere, the Asheville Citizen-Times has a photo of John and Disney during that time.

My father was John's executor when John died in the late 1990s, and while cleaning out John's house I discovered a gift from Disney to John: a cel from Fantasia, ostensibly signed by Walt. Since John and I always had a kinship, my father eventually passed the cel on to me

..."
The Disney Studio put a label on the cel which identifies it as "an original painting on celluloid actually used in the Walt Disney production of "Fantasia." In fact the cel is a hand-painted Disney Studio publicity cel. Publicity cels were created by the Disney Studio's inkers and painters when a VIP gift was needed.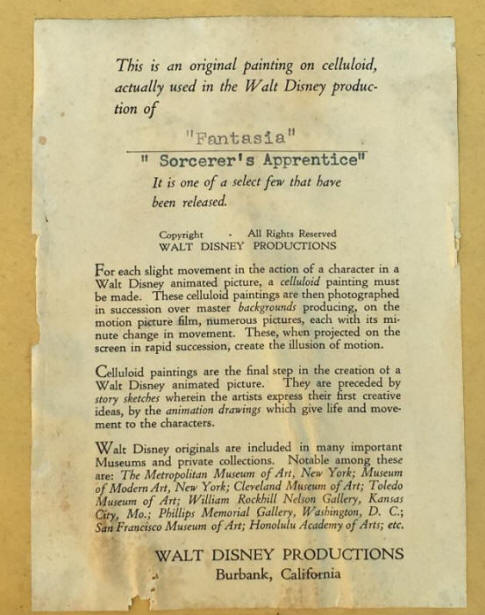 To create this cel for Walt Disney to give to John Parris, this cel was hand-painted in the Disney Studio's Ink and Paint department. Next this cel of Mickey was painstakingly trimmed to the outline of the character by a Disney Studio artisan. A background painting was hand-painted and then the cel was then applied to the background. It was then matted at the Studio, and the words "Walt Disney's Fantasia" were delicately added under the matte opening by a Disney Studio calligrapher. The word "Original WDP" (Walt Disney Productions) was then stamped on the mat to certify this piece was hand-painted at the Disney Studio. And then the authenticity label was applied to the reverse; the techniques used to create the cel were so close to those used making the film that the Disney Studio used the same authenticity label used for the actual film cels.
Finally, it was given to Walt Disney for his personal signature. Walt signed it in red crayon, selecting a color that matched Mickey's sorcerer robe:

TO JOHN + DOROTHY WITH BEST WISHES WALT DISNEY
The rarity of this autographed cel cannot be overstated. This is only the second Walt Disney signed cel of Sorcerer Mickey I have been lucky enough to acquire in 28 years. This is among the rarest autographed cels I have ever had the privilege to offer.

Some minor spotting on the matt and background (click photos above for a closer view); cracking of paint on Mickey's gloves; otherwise very fine condition. Overall size approximately 17" x 16.5". You can read more about the original recipient, John Parris below. Includes the Phil Sears Collectibles Lifetime Guarantee of Authenticity. A spectacular showpiece! Item # 3815
SORRY, SOLD

*Do not use the "Add To Cart" button if you wish to pay using our 10 month layaway payment plan. Instead CLICK HERE for the layaway order form. Most orders totaling $149 or more can be placed on layaway. Layaway does not require credit and is not the same as PayPal Credit.
Special U.S. shipping charge on this item $24.95. Foreign shipping $69.95. Automatic checkout will not calculate foreign shipping accurately. After you place your order we will email foreign customers for additional shipping payment.