Walt Disney Autographed FANTASIA Program

When FANTASIA was first released in 1940, it was showcased in only a handful of theaters across the country, and treated more like a major live musical

production

than a film. Each theater was specially-equipped with Disney's multi-track "Fanta-sound," and this special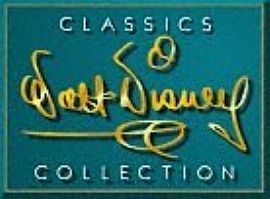 program could be purchased.

Walt Disney has boldly autographed this original 1940 FANTASIA program with a GIANT SEVEN INCH LONG signature! This early version of Walt Disney's cursive signature is the style used for the Walt Disney Classics Collection logo (see example at right).

One of Disney's most valued Directors and Producers, Ben Sharpsteen, has also autographed the program. Sharpsteen started with Disney in 1929 and directed or produced dozens of films, including segments of BAMBI and PINOCCHIO.

The program features more than 25 pages of background on the ground-breaking motion picture. This large-format program measures approximately 12" X 10." Minor paper loss to back cover; back cover has been reinforced with acid free archival tape (see photo above); otherwise fine condition. Included is an email from the former owner stating her grandparents bought it at an estate sale. Also includes the Phil Sears Collectibles Lifetime Guarantee of Authenticity. A giant Walt Disney autograph on the program of an ultimate classic Walt Disney movie- a true collector's item! Item # 6171
SORRY, SOLD


*Do not use the "Add To Cart" button if you wish to pay using our 10 month layaway payment plan. Instead CLICK HERE for the layaway order form. Most orders totaling $149 or more can be placed on layaway. Layaway does not require credit and is not the same as PayPal Credit (see banner ad below for PayPal Credit).

Special U.S. insured shipping charge on this item $19.95. Foreign shipping $59.95. Automatic checkout will not calculate foreign shipping accurately. After you place your order we will email foreign customers for additional shipping payment.