Cel of Flower from "Walt Disney's Bambi"
Autographed by Walt Disney!
An original production cel of the Bambi's sweet friend Flower, actually used in the making of the classic movie. This beautiful cel is personally autographed by Walt Disney and is ready to be the star of your Disney collection! This cel was originally sold through Disney's exclusive distribution arrangement with the Courvoisier Gallery of San Francisco. For about ten years during the late 1930's and 1940's the Courvoisier Gallery was the official distributor of movie-used Disney Studio drawings and cels. The original Disney Studio Courvoisier authenticity label is on the back, stating "This is an original painting on celluloid, actually used in the Walt Disney Production of Bambi."
Most cels sold by Courvoisier were not autographed. But this rare and wonderful piece is personally autographed by Walt Disney directly under the Studio's "Original WDP" stamp on the mat. When signing art like this, Walt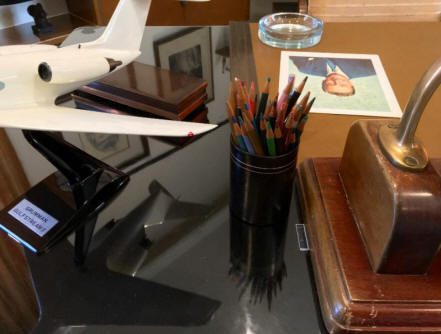 Disney would choose a colored pencil from his desk which complimented a color in the print. (A photo I took of the colored pencils on Walt's desk is shown at right.) Walt Disney has signed the mat:

TO LESTER FRANK
FROM
WALT DISNEY
Included is an email from the former owner stating his grandfather received this cel as child. Cel is framed to an overall size 12.5" x 12"; mat opening is 6" x 4.5". As usual for Disney Courvoisier presentation pieces, cel is trimmed to outline of the character and set against a background enhanced by flower pedals added by Courvoisier. Cel has rippled with age, with some of the original glue showing as a "shadow" behind cel. The Walt Disney autographed mat is in good condition with overall age toning and "Original WDP" (Walt Disney Productions) stamp. A cel from a classic Walt Disney motion picture personally autographed by Walt Disney. Item # 8906, $5495
About $549/Month on layaway!*
*Do not use the "Add To Cart"button if you wish to pay using our 10 month layaway payment plan. Instead CLICK HERE for the layaway order form. Any order totaling $149 or more can be placed on layaway.

Special U.S. shipping charge on this item $19.95. Foreign shipping $59.95. Automatic checkout will not calculate foreign shipping accurately. After you place your order we will email foreign customers for additional shipping payment.