Walt Disney Autographed
Jiminy Cricket Print from "Pinocchio"
TWO Certificates of Authenticity PLUS the Original Disney Label!
Pinocchio's official conscience is ready to help Pinoke out of another pickle in this extremely rare dye-transfer print, personally autographed by Walt Disney! Back in Walt's day the Disney Studio made these high quality dye-transfer prints to give as gifts and special promotional items.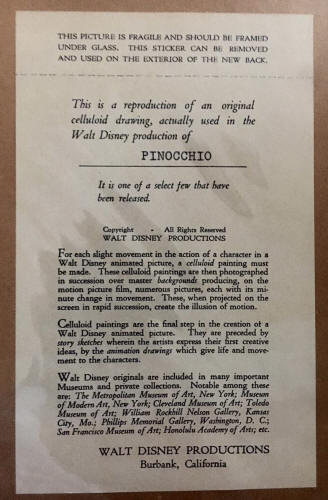 The Walt Disney studio only produced only a small number of these high quality prints. Dye-transfer prints capture all the vibrant colors of the original cels (and are often mistaken for cels). Many of these prints went unsigned, others were signed by Disney employees signing on behalf of their busy boss, and a rare few- such as this wonderful piece- were personally autographed by Walt Disney and given by the Disney Studio to select recipients as special gifts.
When signing prints like these, Walt Disney would choose a colored crayon from his desk which complimented a color in the print. This one is especially nice because it is not personalized to anyone specific. Jiminy Cricket is one of the rarest Disney Studio dye transfer prints. Jiminy-- singer of the classic Disney theme song "When You Wish Upon a Star"-- represents the very essence of Disney magic!
Included is the original Disney Studio authenticity label, stating it is one of "a select few that have been released" and identifying the image as being from the 1940 classic Disney motion picture PINOCCHIO (see image at left). Also included are TWO Certificates of Authenticity for the autograph: One from Nate Sanders Autographs and of course the Phil Sears Collectibles Lifetime Guarantee of Authenticity Certificate.

Today these prints are prized by collectors as one of the most attractive and displayable of all Walt Disney autographed items. Measures 16" x 15" overall; unframed. Light toning and minor chipping to edges. PINOCCHIO is the quintessential Disney classic, making this autographed showpiece highly desirable. Item # 6069, $7495
SORRY, SOLD 1-8-20 12:33 PM PT
About $749/Month on layaway!*
*Do not use the "Add To Cart" button if you wish to pay using our 10 month layaway payment plan. Instead CLICK HERE for the layaway order form. Most orders totaling $149 or more can be placed on layaway. Layaway does not require credit and is not the same as PayPal Credit.
U.S. shipping charge on this item $24.95. Foreign shipping $69.95. Automatic checkout will not calculate foreign shipping accurately. After you place your order we will email foreign customers for additional shipping payment.