Double-Authenticated 1930s Walt Disney Autograph
A signature dating from the late 1930's-- about the time of "Snow White and the Seven Dwarfs." Walt Disney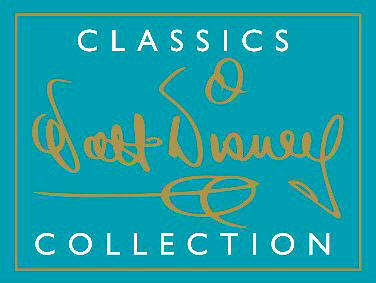 autographs from this early period are far more rare than signatures from the 1950's and 1960's. Walt simply wasn't recognized as much before he started appearing on TV in the 1950s, making this early signature rare. This early style of Walt's cursive autograph is the type used as the logo of the Walt Disney Classics Collection (as show at right).
Signed on lined sheet which has been affixed to an autograph album page. Measures 6" x 3.5" overall. In very fine condition. Includes BOTH the Phil Sears Collectibles Lifetime Guarantee Certificate and the PSA/DNA Letter of Authenticity obtained before it came to us. An 8" x 10" color photo (shown above) will be included for framing. Item # 2620A, $1895
SORRY, SOLD 11-12-17
About $189/Month on layaway!*
U.S. shipping charge on this item $12.95. Foreign shipping $29.95. Automatic checkout will not calculate foreign shipping accurately. After you place your order we will email foreign customers for additional shipping payment.
*Do not use the "Add To Cart" button if you wish to pay using our 10 month layaway payment plan. Instead CLICK HERE for the layaway order form. Most orders totaling $149 or more can be placed on layaway. Layaway does not require credit and is not the same as PayPal Credit (see banner ad below).