1965 Walt Disney Autograph
A Walt Disney autograph obtained at a Canadian rodeo! The story of this Walt Disney autograph is best told in an email from the previous owner: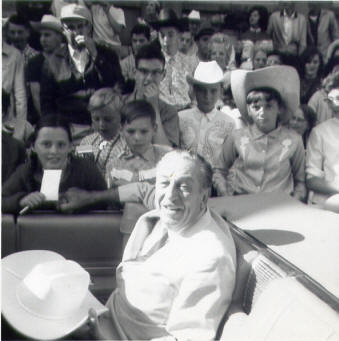 "In the 1960s my mother was visiting Calgary and attended the Calgary Stampede. To my mother's utter amazement the empty seat beside her was filled by Walt Disney. She said he was a delightful man to talk to and after some conversation she asked for his autograph. Since neither of them had a piece of paper she went through her purse and came up with a family photo of us kids which he signed on the back. The photo is from 1963 so her visit to the Stampede was likely 1963 or 64..." (Phil Sears's note: It was actually 1965 when Walt Disney served as Grand Marshal of the Calgary Stampede, and that's when this autograph would have been signed.)
It always enhances the value of an autograph to have documentation when and where it came from! On the right is an internet photo (not included) of Walt Disney on that day at the Calgary Stampede Rodeo.
Walt Disney's autograph is on the back of a photo of the previous owner's family, on sheet measuring 4.5" x 3". In very fine condition. An 8" x 10" color photo (shown at the top of this page) will be included for framing. Also includes the Phil Sears Collectibles Lifetime Guarantee of Authenticity. In perfect condition and ready for framing! Item # 7418,
About /Month on layaway!*
SORRY, SOLD 7-20-17 11:04 AM PT

*Do not use the "Add To Cart" button if you wish to pay using our 10 month layaway payment plan. Instead CLICK HERE for the layaway order form. Most orders totaling $149 or more can be placed on layaway. Layaway does not require credit and is not the same as PayPal Credit (see banner ad below).
Special U.S. shipping charge on this item $10.95. Foreign shipping $29.95. Automatic checkout will not calculate foreign shipping accurately. After you place your order we will email foreign customers for additional shipping payment.