Disneyland Souvenir Booklet Autographed By Walt Disney
Imagine owning a signed copy of Walt Disney's Disneyland dedication speech. Here it is! Inside the cover of this 1956 Disneyland souvenir booklet, Walt Disney has autographed his opening remarks: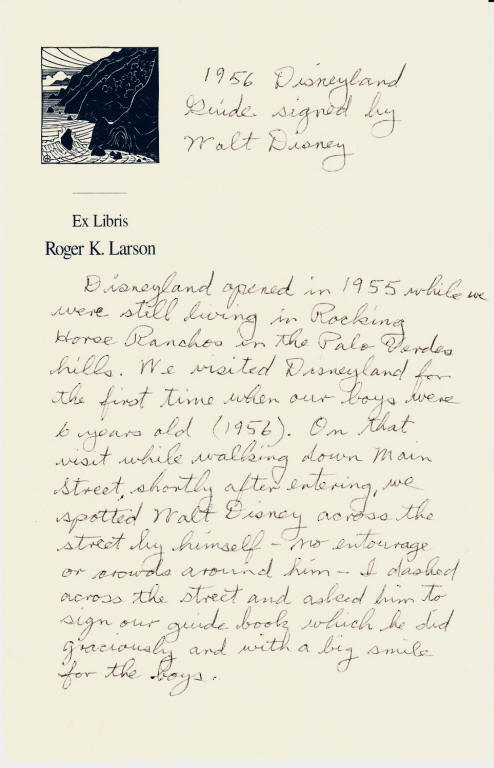 "To all who come to this happy place... WELCOME. Disneyland is your land. Here age relives fond memories of the past... and here youth may savor the challenges of the future. Disneyland is dedicated to the dreams and the hard facts that have created America... with the hope that it will be a source of joy and inspiration to all the world."
Few Walt Disney autographed items are more sought-after by collectors than those associated with Disneyland. Items signed at Disneyland are rarer than you might think- Walt even politely refused to sign at Disneyland for (future) Disney Archivist Dave Smith, back when Dave was a teenager! If Walt felt a lot of other people were watching, he'd often beg-off, asking the fan to write to the Studio for an autograph, saying something like, "If I sign for you I'll have to sign for everybody."
Included is an letter from the original recipient:
"
...O
n our visit in 1956, while walking down Main Street, we spotted Walt Disney, across the street by himself. I dashed across the street and asked him to sign our guide book, which he did graciously and with a big smile for the boys
.
"
Especially nice is that this wonderful 1956 Disneyland souvenir booklet is not inscribed- does not read "To Bob" or "To Julie." Measures approximately 11.75" x 8". Soft cover. In fine condition. Includes my Lifetime Guarantee of Authenticity. Item # # 7658
SORRY, SOLD

*Do not use the "Add To Cart" button if you wish to pay using our 10 month layaway payment plan. Instead CLICK HERE for the layaway order form. Most orders totaling $149 or more can be placed on layaway. Layaway does not require credit and is not the same as PayPal Credit.
U.S. shipping charge on this item $19.95. Foreign shipping $39.95. Automatic checkout will not calculate foreign shipping accurately. After you place your order we will email foreign customers for additional shipping payment.