Walt Disney, Roy Disney, Lillian & Edna Disney Have All
Signed this Rare Document!
Plus the Legendary Gunther Lessing!

Four Disney family members sign off on Lillian Disney's wish to give her and Walt's daughter Diane 5,000 shares of Disney stock. This legal document is signed not only by Walt Disney, but also his brother Roy O. Disney, and Walt's wife Lillian Disney, as well as Roy's wife Edna. Disney's famous lawyer Gunther Lessing has also signed.
Many people don't realize that the original name of the Disney Studio was the Disney Brothers Studio. There is no question that financial expertise of Walt's brother Roy was critical in building and holding together the Disney Company during Walt's lifetime and after, until the opening of Walt Disney World. Roy O. Disney passed away in 1971, just weeks after overseeing the grand opening of Disney World. Both Roy O. Disney and his wife Edna Disney have signed this document in addition to Walt and Lillian.
Lillian Bounds started at the Disney Studio in 1923- when it was still more of a Disney office. She worked as an inker and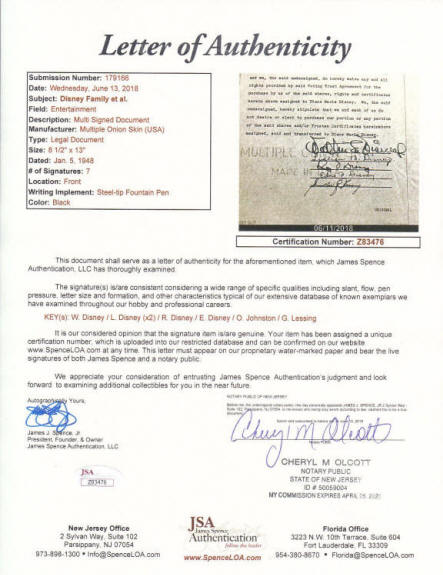 painter, earning $15 a week. According to Bob Thomas's great book, WALT DISNEY - AN AMERICAN ORIGINAL, Walt said to his pretty employee, "I'm going to buy a new suit. When I get it, would it be alright if I called on you?" She said it would be, and Walt and Lillian married two years later. She has signed this document twice, "Lillian B. Disney."
Gunther R. Lessing headed Disney's legal department for many years before the Walt Disney promoted him to vice president and general counsel of Walt Disney Productions. At the Disney studio, known for its laid back atmosphere where everyone was addressed by their first name, it was Gunther Lessing who Walt referred to when he said, "The only Mister we have at the studio is our lawyer, Mr. Lessing." Lessing earned his law degree from Yale, and spent his early career in Mexico where he briefly acted as council for Pancho Villa. Walt Disney hired Lessing to represent them in late 1929 and early 1930 to protect their rights to their cartoons from the predatory Pat Powers. "If he was good enough for Pancho Villa then he's a good enough attorney for me," Walt Disney reportedly said. Lessing was hired by Disney in 1929 and stayed with the studio for 35 years, retiring in 1964.
In this 1948 document, Lillian Disney gives 5,000 shares of her stock to her daughter Diane (who is only a child at the time). As Trustees, Walt Disney, Roy and his wife Edna, and Gunther Lessing, (and Lillian by signing a second time) have certified that they do no object to the transfer. Document is an original on onion skin paper measuring 8.5" x 7.75". Document is in excellent condition with the most minor tape remnants on the top margin of page 1 and the extreme side margins of page 2 reaching no more than 1/8 inch into the blank margin (so minor, it's virtually invisible in the scans). A rare collection of signatures of the two Disney brothers and their wives, and the legendary Gunther Lessing. A rare and significant Disney Company/Disney family document. Unframed. Includes TWO Certificates of Authenticity: The JSA (James Spence) Letter of Authenticity and the Phil Sears Collectibles Lifetime Guarantee of Authenticity. Item # 2645
SORRY, SOLD

*Do not use the "Add To Cart" button if you wish to pay using our 10 month layaway payment plan. Instead CLICK HERE
for the layaway order form. Most orders totaling $149 or more can be placed on layaway. Layaway does not require credit and is not the same as PayPal Credit.
U.S. insured shipping charge $19.95. Foreign shipping $49.95. Automatic checkout will not calculate foreign shipping accurately. After you place your order we will email foreign customers for additional shipping payment.