Disneyland Opening Day Walt Disney Autograph
Contrary to popular belief, Disneyland didn't open to the public on July 17 1955. That was the by-invitation-only Press Preview. The Magic Kingdom of Disneyland threw open it's gates to the public the next day, July 18. That same day Walt Disney joined the Vice President of the Carnation Company in judging a contest at Main Street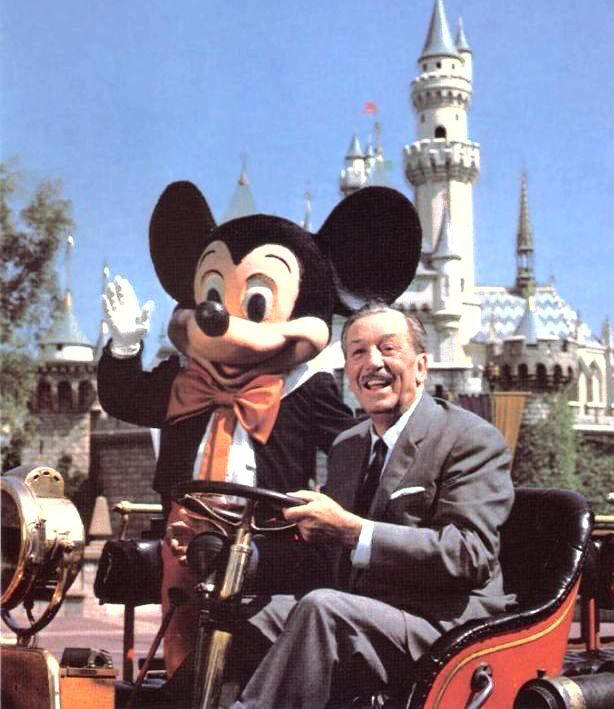 USA's Carnation Ice Cream Parlor. And he signed a special certificate to mark the event:
Be it known by these presents
that in the year of our Lord
nineteen hundred and fifty five
in the month and day of July
eighteenth that Larry Thueson
was a judged to be and is hereby proclaimed
Honorary Carnation Soda Fountain Specialist
in this days competition to finde ye
maker of ye most tempting dish of
divers flavours ice creams and fruits
in testimony where of we the Honorable
Judges do hereby set our hand and seal
done at the
Kingdom of Magic
Disneyland
ye day and year first mentioned.
Walt Disney has signed the certificate as Witness. In all, the certificate is signed by six people including the vice President of the Carnation Company and the President of the Southern California Association of Community Chests.
The piece measures approximately 17" x 14" including mat. In very fine condition; Walt's signature looks a little bumpy as if signed in the palm of his hand or on a rough surface. Includes the Phil Sears Collectibles Lifetime Guarantee Certificate. Also includes an 8" x 10" color photo (shown at right)suitable for framing. An extremely rare Disneyland opening day Walt Disney autograph. Item # 2643
SORRY, SOLD
*Do not use the "Add To Cart" button if you wish to pay using our 10 month layaway payment plan. Instead CLICK HERE for the layaway order form. Most orders totaling $149 or more can be placed on layaway. Layaway does not require credit and is not the same as PayPal Credit.
U.S. shipping charge on this item $17.95. Foreign shipping $39.95. Automatic checkout will not calculate foreign shipping accurately. After you place your order we will email foreign customers for additional shipping payment.