Disneyland Map Autographed By Walt Disney
Few Walt Disney autographed items are more sought-after by collectors than those associated with Disneyland. Items signed at Disneyland are rarer than you might think- Walt even politely refused to sign at Disneyland for (future) Disney Archivist Dave Smith, back when Dave was a teenager! (If Walt felt a lot of other people were watching, he'd often beg-off, asking the fan to write to the Stu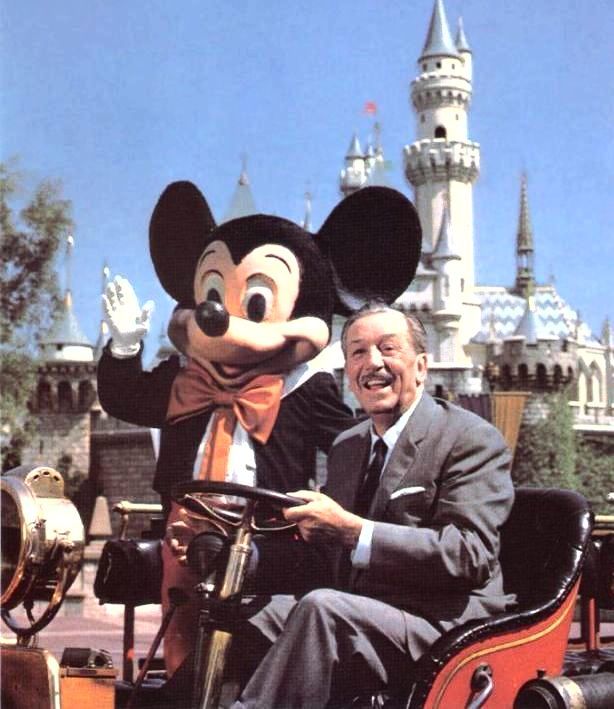 dio for an autograph, saying something like, "If I sign for you I'll have to sign for everybody." But if you caught Walt Disney at the right moment you might get a quick autograph, like this one on a 1958 Disneyland map brochure. Included is an email from the former owner which reads (in part):

"... It belonged to my great aunt. She died a while back at 100 yrs old and ... I was going through some boxes of items I had that belonged to her..."
Walt Disney has signed in blue ballpoint on the front of the brochure which unfolds into a map of Disneyland from the 1958 season-- only its second full year of operation. This wonderful piece is not inscribed ( does not say "To Bob" or "To Julie,") which is especially nice. Measures approximately 8" X 10" unfolded. Also includes a color photo of Walt Disney at Disneyland suitable for framing. A small amount of paper loss as shown; a split at fold on map side has been repaired with nearly invisible archival tape. Includes the Phil Sears Collectibles Lifetime Guarantee of Authenticity Certificate. Item # 5738
SORRY, SOLD

*Do not use the "Add To Cart" button if you wish to pay using our 10 month layaway payment plan. Instead CLICK HERE for the layaway order form. Most orders totaling $149 or more can be placed on layaway. Layaway does not require credit and is not the same as PayPal Credit (see banner ad below).
Special U.S. insured shipping charge on this item $14.95. Foreign shipping $49.95. Automatic checkout will not calculate foreign shipping accurately. After you place your order we will email foreign customers for additional shipping payment.