Walt Disney Autographed Donald Duck

Truly a "Best of the Best" piece! This beautiful framed Donald Duck print is boldly signed on the mat by Walt Disney. I can't remember seeing one in better condition! Included is a handwritten note from a former owner:
"Walt Disney was one of the stockholders that started the Sugar Bowl ski area. Since 1950 thru 1966... Walt presented a signed cartoon to the boy and girl that won the Mt. Disney race (under 12 years of age). This Donald Duck was awarded to my brother Paul in 1959."
Yes, there really is a Mount Disney; Walt Disney was an early investor in the Sugar Bowl Ski Resort near Lake Tahoe, California. To thank Walt Disney for his investment, the developer of the res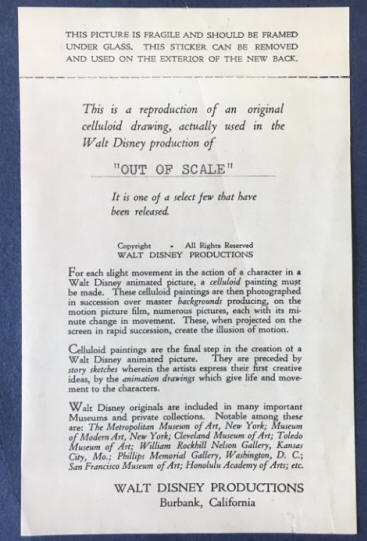 ort named one of the mountains in Walt's honor. According the to former owner, this beautiful autographed Donald Duck dye transfer print was awarded to his brother for as the winner of a children's ski race.

This spectacular signed Donald Duck is a scene from 1951's short film "Out of Scale." In the cartoon, Donald Duck rides a live steam miniature railroad around his yard... sound familiar? Walt Disney's very own Carolwood Pacific Railroad provided the inspiration for the cartoon. Framed to an overall size of approximately 18" x 17". Includes the Phil Sears Collectibles Lifetime Guarantee of Authenticity Certificate.
Item # 1770, $8,995
SORRY, SOLD
About $899/Month on layaway!*
*Do not use the "Add To Cart" button if you wish to pay using our 10 month layaway payment plan. Instead CLICK HERE for the layaway order form. Most orders totaling $149 or more can be placed on layaway. Layaway does not require credit and is not the same as PayPal Credit.
U.S. shipping charge on this item $29.95. Foreign shipping $89.95. Automatic checkout will not calculate foreign shipping accurately. After you place your order we will email foreign customers for additional shipping payment.