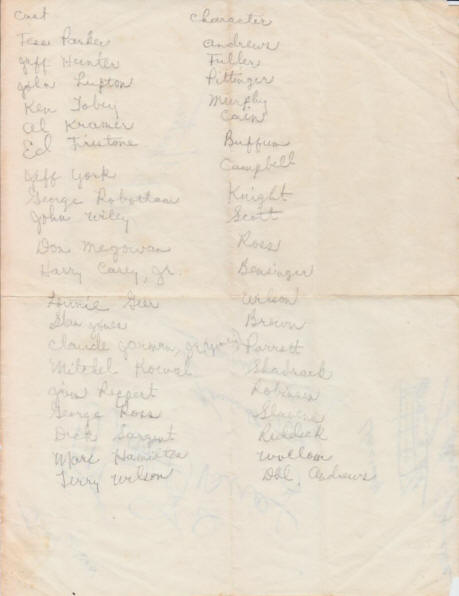 Less than a year after Disneyland's grand opening, Walt Disney signed this sheet along with five other cast members of Disney's live-action movie "The Great Locomotive Chase." Includes an email from a South Carolina antique shop owner:

"...The signature was obtained in 1956 during the making of the Walt Disney movie, "The Great Locomotive Chase". The movie was made in North Carolina and in Clayton, GA... While in Clayton, GA, signatures were obtained (from) Walt Disney as well as available actors...."

There are six autographs in all:
Walt Disney
Jeff Hunter
Terry Wilson
Kenneth Tobey
Lenny Geer
Stan Jones
All have signed on an 8" x 10" sheet. On the reverse is a pencil listing of the cast. Sheet shows age toning and folds as shown. Includes the Phil Sears Collectibles Lifetime Guarantee of Authenticity. Item #
4694, $4495

SORRY, SOLD
*Do not use the "Add To Cart" button if you wish to pay using our 10 month layaway payment plan. Instead CLICK HERE for the layaway order form. Most orders totaling $149 or more can be placed on layaway. Layaway does not require credit and is not the same as PayPal Credit.
U.S. shipping charge on this item $10.95. Foreign shipping $39.95. Automatic checkout will not calculate foreign shipping accurately. After you place your order we will email foreign customers for additional shipping payment.