Walt Disney Buys Himself a Mercedes... and Puts It In "THAT DARN CAT!"


According to Disney historian Jeff Kurti in the Disney Insider blog:
Walt's last car is fondly remembered by one of his film stars, Dean Jones. "He passed a Mercedes dealership," Jones says, "He looked in the window and saw this little two-seater. They were about $11,000 at that time."
Jones recalls that Walt (as he had become accustomed to doing) just walked by, thinking, "I can't afford that." But then he stopped and thought, "Wait! I can afford it!" and went back and bought the car.
Shortly afterward, when Jones made "That Darn Cat!" (1965), the actor noticed that the Mercedes SL 230 was being used in the picture as Roddy McDowall's car! "How come we're using Walt's car?" Jones asked. He found out that Walt was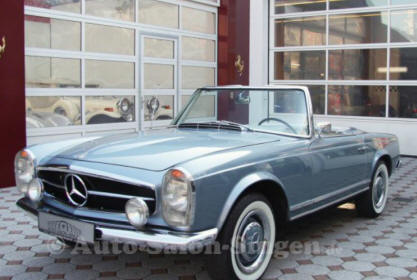 being paid $100 a day for the use of his car. "I think that he just felt guilty about spending $11,000, and that the Mercedes had to be of some use other than to drive him around."

Walt, who had owned so few cars so that he could invest in his Studio and build Disneyland would probably be proud that his family still owns the Mercedes to this day. -Disney Historian Jeff Kurti

This check is clearly spells out it is for that 1964 Mercedes 230 SL, a car that would have looked similar to the Mercedes shown in the stock photo at right. Collectors love signed checks for a number of reasons; indisputable authenticity (complete with the original bank stamps), Disney's full legal Walter E. Disney signature, and the printed check itself- a collector's item even if blank- printed with Walt Disney's name, business address (the Disney studio address), and direct from Walt's checkbook.

This 1964 check is guaranteed to have been personally signed by Walt himself. What a neat connection not only to Walt Disney's car, but also to "THAT DARN CAT!" This check measures approximately 8.5" x 3". In good condition with NO tears and one very flat fold. Includes the Phil Sears Collectibles Lifetime Guarantee of Authenticity. Also included is a photograph suitable for framing. Check # 1112, item # 1064J
SORRY, SOLD



*

Do not use the "Add To Cart"button if you wish to pay using our 10 month layaway payment plan. Instead CLICK HERE for the layaway order form. Most orders totaling $149 or more can be placed on layaway. Layaway does not require credit and is not the same as PayPal Credit.

Special U.S. insured shipping charge on signed checks $1

2

.95. Foreign shipping $19.95. Automatic checkout will not calculate foreign shipping accurately. After you place your order we will email foreign customers for additional shipping payment.