"Walt Disney - The Art of Animation"
Autographed by Walt Disney
Published in 1958, "Walt Disney- The Art of Animation" is Bob Thomas's fascinating journey through the Walt Disney Studio's process of taking a project from the spark of an idea to a fully rendered animated motion picture. Thomas follows Walt Disney and his artists through the creation of the Disney classic "SLEEPING BEAUTY."
Walt Disney has boldly autographed this edition in blue ink with a huge 6" long signature "To Douglas/My Best/Walt Disney." Included is an email from the previous owner: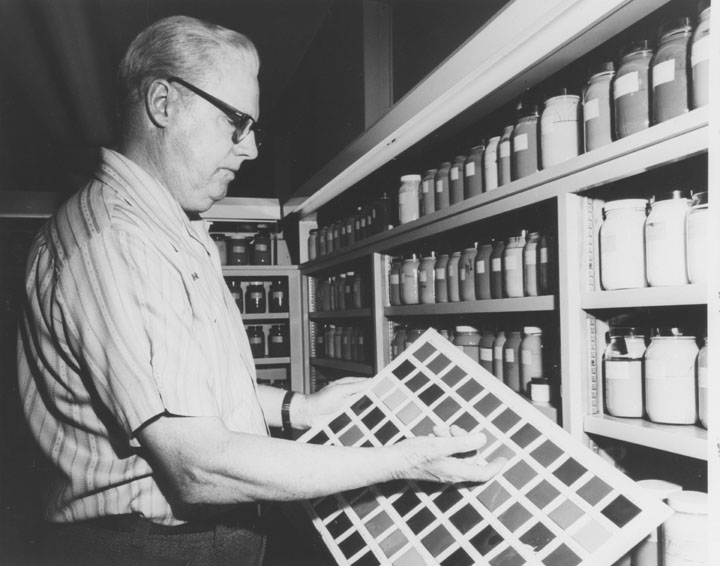 "This book originally belonged to my Father's cousin Douglas McAvoy. Douglas' father Steven (sic) worked at Disney doing the color on the animations while Walt Disney was alive. Douglas was always hanging around the lot when he got out of school and one of his favourite stories was the day when Walt Disney himself asked if the would like to try out one of the cars for It's a Small World." (Phil's note- writer probably means Autopia). This book was a gift to him one Christmas. It passed from Douglas to my Aunt Kathy..."
The L.A. Public Library photograph at the left (not included) shows Stephen McAvoy at his job as the color mixer at the Disney Studio Ink and Paint Department during the Walt Disney years. Autograph includes the Phil Sears Collectibles Lifetime Guarantee of Authenticity. The book is in very good condition; paper dust jacket shows wear. Book is a hefty coffee table size (11.5" X 8.5"). Item # 6260
SORRY, SOLD
Sorry, layaway not available on this item but consider no payments for 6 months with PayPal Credit (see banner ad below).
Special U.S. Shipping charge on this item $19.95. Foreign shipping $59.95. Automatic checkout will not calculate foreign shipping accurately. After you place your order we will email foreign customers for additional shipping payment.