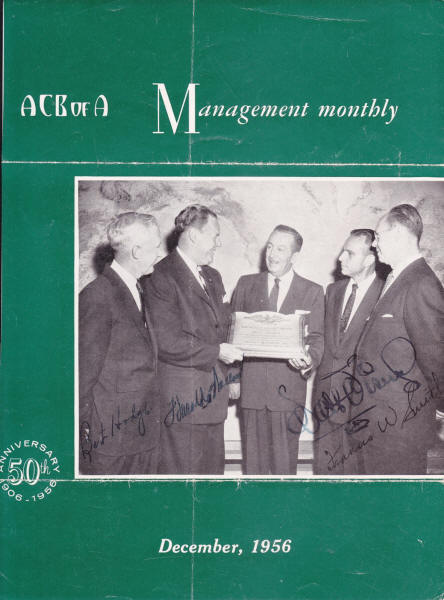 Walt Disney Autographed Photo
with TWO Certificates of Authenticity!

Walt Disney has personally autographed this magazine cover photo of him receiving an award. Dated 1956, the year after Disneyland opened, this is the cover of a publication called the "ACB of A Management Monthly" (possibly the newsletter of the Associated Credit Bureaus of America). Walt is shown with other businessmen who have also autographed the photo.
Page measures 8.5" X 11". Several folds as shown (photo at right is clickable for a larger view); entire publication not included, just the cover. Walt Disney has signed with a beautiful fountain pen signature. Includes TWO Certificates of Authenticity; one from James Spence Authentication, and of course the Phil Sears Collectibles Lifetime Guarantee Certificate. Item # 6194, $2595
About $259/Month on layaway!*
SORRY, SOLD
*Do not use the "Add To Cart" button if you wish to pay using our 10 month layaway payment plan. Instead CLICK HERE for the layaway order form. Most orders totaling $149 or more can be placed on layaway. Layaway does not require credit and is not the same as PayPal Credit.
U.S. shipping charge on this item $12.95. Foreign shipping $39.95. Automatic checkout will not calculate foreign shipping accurately. After you place your order we will email foreign customers for additional shipping payment.