Walt Disney Autographed Mickey Mouse Menu
What's better than lunch at the Disney Studio restaurant? Meeting Walt Disney in the restaurant and having him autograph the Mickey Mouse lunch menu! Walt has autographed the front cover of this huge menu with a huge signature in blue fountain pen. Walt has signed next to a giant and colorful image of his most famous creation, Mickey Mouse! The recipient has added a notation on the cover, telling us the exact day this menu was signed: June 18, 1946. You'll notice a hot roast turkey sandwich with mashed potatoes and cranberry sauce was just 55 cents.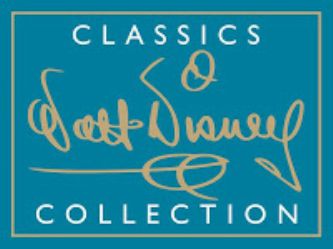 Bonus: Includes emails from the former owner stating her family had traveled to California from Pennsylvania and during lunch at the Disney Studio Restaurant Walt Disney walked through and they got him to sign this menu.

When open, the menu measures an impressive 12.5" X 18". It features Mickey Mouse on the front along with Donald Duck, Goofy and Pluto. On the inside are Minnie Mouse, Snow White, Stromboli, Three Little Pigs, Pinocchio, Monstro the Whale, Big Bad Wolf, Jiminy Cricket, Pluto, Donald Duck and Goofy!
Walt Disney has boldly signed with an enormous signature! Walt has signed in his 1940's style cursive signature-- the type of signature used by the Disney Company as the logo of the Walt Disney Classics Collection (see image at right).
When do you ever find Walt Disney's autograph on an item with this many of his most famous characters?! The menu is in very fine condition. A terrific Walt Disney signed Mickey Mouse item! This is a fantastic centerpiece for any Disney collection. Includes my Lifetime Guarantee of Authenticity Certificate. Item # #2647
SORRY, SOLD
Special U.S. insured shipping charge on this item $24.95. Foreign shipping $69.95. Automatic checkout will not calculate foreign shipping accurately. After you place your order we will email foreign customers for additional shipping payment.