Walt Disney has autographed this charming "Sante Fe & Disneyland Railroad" children's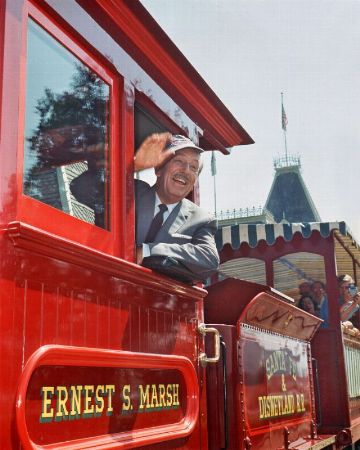 menu from the Disneyland Hotel Coffee Shop! This delightful menu unfolds to reveal the Disneyland & Sante Fe railroad train-- the individual cars containing the menu items. Unfolded, the menu measures over 30" long! That makes it one of the largest Walt Disney autographed items I've ever offered. Included is an email from the original recipient :
"I have this childís menu from Disneyland hotel from the 1950ís. Walt Disney and his wife were there seated near where my parents and I were seated. My Dad had me take the menu to Mr. Disney and ask for his autograph
...
"
A Disneyland Hotel/Disneyland Railroad collectible which is rarely found autograhed by Walt Disney! This terrific Disneyland Resort train menu will appeal to both Disney theme park fans and railroad fans-- and of course, every Walt Disney fan. It's no secret that Walt Disney himself was a huge train enthusiast! This menu is in SUPERIOR condition. A real gem. Includes the Phil Sears Collectibles Lifetime Guarantee of Authenticity. Also includes a framable 8" X 10" color photograph of Walt Disney riding the Disneyland Railroad (shown at right). Item # 6424
SORRY, SOLD

*Do not use the "Add To Cart" button if you wish to pay using our 10 month layaway payment plan. Instead CLICK HERE for the layaway order form. Most orders totaling $149 or more can be placed on layaway. Layaway does not require credit and is not the same as PayPal Credit (see banner ad below).
Special U.S. shipping charge on this item $14.95. Foreign shipping $39.95. Automatic checkout will not calculate foreign shipping accurately. After you place your order we will email foreign customers for additional shipping payment.