This wonderful cel is an original 1944 Disney Studio production cel of Donald Duck from "The Plastics Inventor." This is an original hand-painted and hand-inked cel used in the cartoon film. This one was sent up to Walt Disney's office, where Walt personally autographed it using green crayon with a signature almost 4 inches long. Walt Disney has signed it:

TO GEORGE FROM WALT DISNEY
The matte has the official Disney Studio authenticity stamp just abo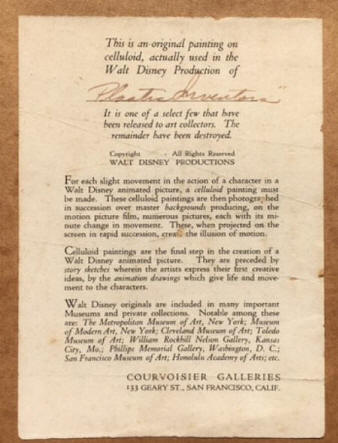 ve the signature: "Original WDP." The Disney Studio has prepared this cel in the usual manner for presentation pieces, trimming the cel to the outline of the characters. Includes the original Disney Studio authenticity label stating "This is an original painting on celluloid use in the Walt Disney Production of Plastics Inventor."


Cels autographed by Walt Disney make extremely attractive displays in any home or office and are highly valued by collectors for both the autograph and the cel artwork itself. Framed to an overall size approximately 16" x 15.5". One crease in the upper left corner of mat (see photo); cel paint shows some discoloration an cracking from age; otherwise fine condition. Includes the Phil Sears Collectibles Lifetime Guarantee of Authenticity. A beautiful showpiece! Item

# 6941, $8995


SORRY, SOLD
About $

899

/Month on layaway!

*

*

Do not use the "Add To Cart" button if you wish to pay using our 10 month layaway payment plan. Instead CLICK HERE for the layaway order form. Most orders totaling $149 or more can be placed on layaway. Layaway does not require credit and is not the same as PayPal Credit.

Special U.S. insured shipping charge on this item $24.95. Foreign shipping $69.95. Automatic checkout will not calculate foreign shipping accurately. After you place your order we will email foreign customers for additional shipping payment.