1991-2021 Celebrating Over a Quarter Century as
The Walt Disney Autograph Expert!


What AUTOGRAPH COLLECTOR MAGAZINE Says
About Phil Sears:

"...Only a few (dealers) specialize in authentic, vintage Disney autographs and memorabilia. Perhaps the best of these is Phil Sears..."
Walt Disney and Diane Disney Autographed
THE STORY OF WALT DISNEY Book!
Click any image for a larger view
Above: A 1960 Disneyland mail order gift catalog, featuring "The Story of Walt Disney" signed by Walt Disney and his daughter for just $4.30 delivered! 60 years ago, of course. (Disneyland catalog not included)
*

Do not use the "Add To Cart" button if you wish to pay using our 10 month layaway payment plan. Instead CLICK HERE for the layaway order form. Most orders totaling $149 or more can be placed on layaway. Layaway does not require credit and is not the same as PayPal Credit (see banner ad below).

Special U.S. insured shipping charge on this item $19.95. Foreign shipping $79.95. Automatic checkout will not calculate foreign shipping accurately. After you place your order we will email foreign customers for additional shipping payment.

Click the "Add to Cart" Button & Select PayPal Credit During Checkout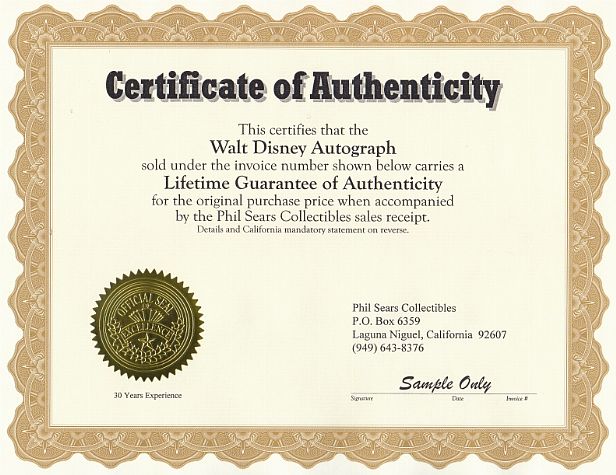 Includes my Lifetime Guarantee of Authenticity!

Also Included is a Copy of My 7 Page "E TICKET" Magazine
Article About Walt Disney's Autograph!
Where Do The Amazing Things at
Phil Sears Collectibles Come From???
Over the past 25+ years I have purchased from:

-Walt Disney's first star, Virginia Davis
-Family of Roger Broggie, Walt Disney's First Imagineer
-Walt Disney's Cinderella voice actress Eileen Woods
-Family of Walt Disney's secretary Tommy Wilck
-Walt Disney's Snow White voice actress Adriana Caselotti
-Walt Disney's publicist Len Shannon
-Disney History Institute's Paul F. Anderson
-Marceline, Missouri Mayor & Walt Disney friend Rush Johnson
-Walt Disney's Sleeping Beauty voice actress Mary Costa
-Walt Disney's Cal Arts publicist Tom Wilck
-Family of Disney artist Josh Meador
-Walt Disney's Tinker Bell Margaret Kerry
-Estate of Disney Artist Jay Gould
-Family of Disney Artist Milt Banta
-Family of Disney artist Ward Kimball (through an intermediary)
-Walt Disney's Movie Producer Harry Tytle
-Disneyland President Jack Lindquist
-Family of E Ticket Magazine co-publisher Leon Janzen
-Son of Walt Disney friend Winslow Case
-Van France, hired by Walt Disney to create the University of Disneyland
... And 100's More!
-And we'd like to buy from you if you have something amazing!
Click HERE to email me
Statement in Accordance with California Civil Code:
SALE OF AUTOGRAPHED COLLECTIBLES: AS REQUIRED BY LAW, A DEALER WHO SELLS TO A CONSUMER ANY COLLECTIBLE DESCRIBED AS BEING AUTOGRAPHED MUST PROVIDE A WRITTEN EXPRESS WARRANTY AT THE TIME OF SALE AND A THREE-DAY RIGHT OF RETURN. THIS DEALER MAY BE SURETY BONDED OR OTHERWISE INSURED TO ENSURE THE AUTHENTICITY OF ANY COLLECTIBLE SOLD BY THIS DEALER.