Walt Disney Autographed Photo
from "El Groupo" Trip
At the beginning of World War II Walt Disney was asked by the U.S. government to help strengthen allegiances with our Latin American allies and undertake a goodwill trip.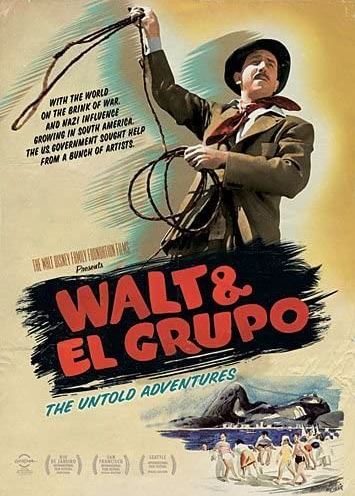 Walt and a group of key staff spent months in Central America and South America researching ideas and generating good public relations for Disney and the United States. This important episode of Walt Disney's life is documented in the 2008 film "Walt & El Groupo." (Movie poster shown at right; not included.) Two Walt Disney feature films resulted from this trip: "Saludos Amigos" and "The Three Caballeros." And it was during this trip this handsome 8" x 10" photo was personally signed by Walt Disney for an important American financial executive working in Brazil:
TO ARNOLD TSCHUDY
WITH BEST WISHES
WALT DISNEY
Tschudy would become the President of the U.S. Chamber of Commerce in Sao Paulo Brazil and later Senior Vice President at Bank of America. Included is an email from his daughter:

"...My father, Arnold Nord Tschudy, was hired by Nelson Rockefeller to head a special government project in South America during the war years. My family lived in São Paulo from 1941-1946. During that time, as you probably know, Disney moved his studio to South America. That is where Disney and my father met…..

Walt Disney has signed in his famous block printing, the signature that forms the basis of the Disney Company logo. Some creases as shown; otherwise fine condition. A terrific vintage autographed photo with great history! Includes the Phil Sears Collectibles Lifetime Guarantee of Authenticity Certificate. Item # 2442
SORRY, SOLD
*Do not use the "Add To Cart" button if you wish to pay using our 10 month layaway payment plan. Instead CLICK HERE for the layaway order form. Most orders totaling $149 or more can be placed on layaway. Layaway does not require credit and is not the same as PayPal Credit.
Special U.S. shipping charge on this item $10.95. Foreign shipping $39.95. Automatic checkout will not calculate foreign shipping accurately. After you place your order we will email foreign customers for additional shipping payment.