Walt Disney Autographed Disneyland Postcard
... and Bonus!
Walt Disney proudly points to his Magic Kingdom, Disneyland, in this JUMBO size postcard... which he has personally autographed! This giant postcard-- larger than a 5" x 7" photograph-- was personally autographed for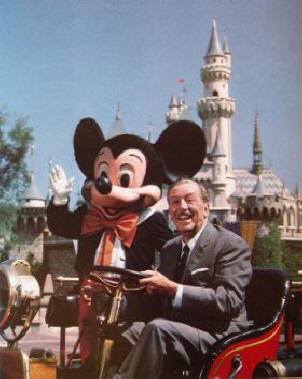 guest Margaret Webber in November of 1956, Disneyland's first full year of operation. Walt Disney has signed the postcard in dark black in, making this a signature visible from across a room! This GIANT postcard measures 8.75" x 5.5" with HUGE Walt Disney autograph!

Also included is a 1956 Disneyland souvenir booklet from the same November 1956 visit, autographed by a number of Disneyland employees of the time including workers at The Emporium, Ellen's Gift Shop (where Disney Clothiers is today), Yale Lock and Key, Disneyland Pen Shop, and two Native American performers from Disneyland's Indian Village (where Critter Country sits today) and even Aunt Jemima, the performer-greeter from Aunt Jemima's Pancake House.
Both items are in very fine condition; post card has two staple holes against edge. Includes the Phil Sears Collectibles Lifetime Guarantee of Authenticity Certificate. Also includes an 8" x 10" color photo (shown at right) suitable for framing.
Item # 4943
SORRY, SOLD

Do not use the "Add To Cart" button if you wish to pay using our 10 month layaway payment plan. Instead CLICK HERE for the layaway order form. Most orders totaling $149 or more can be placed on layaway. Layaway does not require credit and is not the same as PayPal Credit.
U.S. shipping charge on this item $14.95. Foreign shipping $39.95. Automatic checkout will not calculate foreign shipping accurately. After you place your order we will email foreign customers for additional shipping payment.