Great Walt Disney Autographed Donald Duck CEL
Not a Print!
This wonderful cel is an original World War II era Disney Studio production cel of Donald Duck. This one was sent up to Walt Disney's office, where Walt personally autographed it. Walt Disney has selected a green crayon from his desk to compliment the background and autographed the mat:

TO W. L. COURTNEY
WITH BEST WISHES
WALT DISNEY

W. L. (William Leonard) Courtney was Director of Finance and Administration for Britain's Royal Air Force Delegation in Washington during the final years of World War II. It is perhaps in this position that he had contact with the Walt Disney Studio, which was deeply committed to supporting the war effort. Included is a photocopy from the British Air Ministry (Air Force) outlining Courtney's career.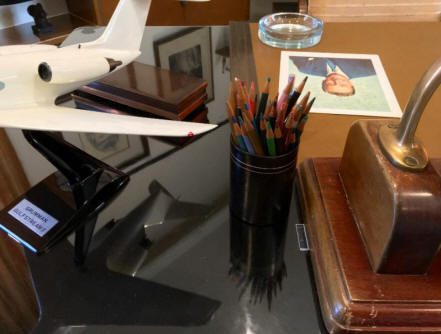 When signing art like this Walt Disney would choose a colored pencil from his desk which complimented a color in the print. (A photo I took of the colored pencils on Walt's desk is shown at right.) In very fine condition; some age ripples to cel. Frame is possibly original, with a small split in the woo

d; o

verall size approximately 1

5

" x 1

4

". Cels autographed by Walt Disney make extremely attractive displays in any home or office and are highly valued by collectors for both the autograph and the cel artwork itself.

A

beautiful showpiece featuring one of Walt Disney's most famous characters.

Includes the Phil Sears Collectibles Lifetime Guarantee of Authenticity.

Item

# 7094




SORRY, SOLD

*

Do not use the "Add To Cart" button if you wish to pay using our 10 month layaway payment plan. Instead CLICK HERE for the layaway order form. Most orders totaling $149 or more can be placed on layaway. Layaway does not require credit and is not the same as PayPal Credit (see banner ad below).

Special U.S. insured shipping charge on this item $24.95. Foreign shipping $69.95. Automatic checkout will not calculate foreign shipping accurately. After you place your order we will email foreign customers for additional shipping payment.