Walt Disney Writes to Disneyland!
Nothing gets Disney collectors excited like items relating to Walt Disney's theme parks, and Disneyland was his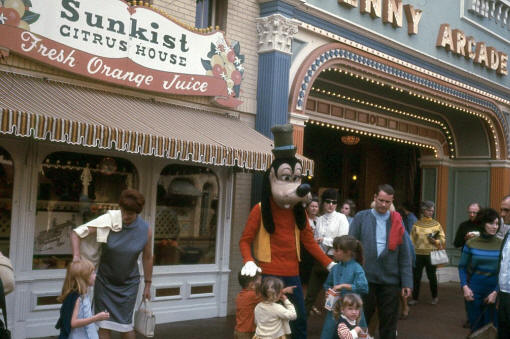 original. In this 1966 letter, Walt Disney thanks the manager of Disneyland's Sunkist Citrus House on Main Street for a Christmas present- two crates of citrus for the Disney family. The Sunkist Citrus House was next to the Penny Arcade, where the Gibson Girl Ice Cream Parlor now resides.
Walt Disney writing to a Disneyland shop on Main Street, U.S.A-a great Walt Disney autographed letter! Walt Disney has personally signed the letter in blue ink. This letter is in very fine condition, with the usual two mailing folds. Also included is the original mailing envelope; often Walt Disney letters are missing this important piece. Includes the Phil Sears Collectibles Lifetime Guarantee of Authenticity Certificate. Also includes an 8" x 10" color photo suitable for framing. Item # 2549, $4495
About $449/Month on layaway!*
Do not use the "Add To Cart" button if you wish to pay using our 10 month layaway payment plan. Instead CLICK HERE for the layaway order form. Most orders totaling $149 or more can be placed on layaway. Layaway does not require credit and is not the same as PayPal Credit.
U.S. shipping charge on this item $14.95. Foreign shipping $39.95. Automatic checkout will not calculate foreign shipping accurately. After you place your order we will email foreign customers for additional shipping payment.