Walt Disney Autographed Disneyland Postcard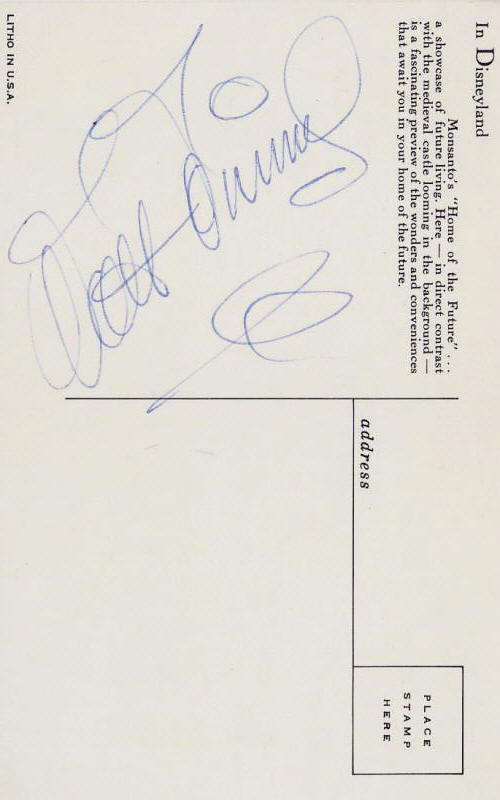 From 1957 to 1967 Disneyland guests to experience the Home of the Future by Monsanto... complete with a microwave oven! This postcard of the futuristic plastic home is personally autographed by Walt Disney. Included are two emails from the former owner documenting how the autograph was obtained:

"... I have a Walt Disney signature that I'm interested in selling. It was signed in 1959, by the exit to the Matterhorn ride, while Mr. Disney was waiting for his grandchildren to finish up on the ride... It was <signed for> my mother, who was with my 1 and 3 year old siblings. She was waiting in line for the ride, saw him there, and took what she had for him to sign..."

Disneyland items are among the most sought-after Walt Disney autographed collectibles. Items signed at Disneyland are rarer than you might think- Walt even politely refused to sign at Disneyland for (future) Disney Archivist Dave Smith, back when Dave was a teenager! (If Walt felt a lot of other people were watching, he'd often beg-off, asking the fan to write to the Studio for an autograph, saying something like, "If I sign for you I'll have to sign for everybody." But if Walt thought he could sign quickly without attracting too much attention, he'd give a quick autograph before going on with his business.


The postcard is signed in blue ballpoint and is in excellent condition!

Includes the Phil Sears Collectibles Lifetime Guarantee of Authenticity Certificate.

Also included is an 8" x 10" color photo (shown above) suitable for framing.

Extremely rare! Item # 7276


SORRY, SOLD
Special U.S. shipping charge on this item $1

2

.95. Foreign shipping $

2

9.95. Automatic checkout will not calculate foreign shipping accurately. After you place your order we will email foreign customers for additional shipping payment.


*

Do not use

the "Add To Cart" button if you wish to pay using our 10 month layaway payment plan. Instead CLICK HERE for the layaway order form. Most orders totaling $149 or more can be placed on layaway. Layaway does not require credit and is not the same as PayPal Credit.