Walt Disney's Autograph... With Mickey Mouse!
Twenty years ago I mentioned in my article in E TICKET MAGAZINE that Walt Disney kept note paper like this on his desk, and when he anticipated going into a crowd of autograph seekers- at Disneyland for example- he would sometimes sign these note sheets in advance and put them in his pocket. This way he could pass them out and get through a crowd of autograph seekers without getting bogged down. In the movie "Saving Mr. Banks" Walt is shown passing out pre-signed autographs at Disneyland (although if you look closely, the Tom Hanks character is passing out small signed photos, which is not accurate).
Walt's printed name and the Mickey Mouse logo make this note sheet extremely desirable- it literally comes from a notepad Walt used on the desk in his office! Walt is associated with Mickey Mouse more than any other Disney character, yet Mickey Mouse items autographed by Walt Disney are surprisingly uncommon. Any Mickey Mouse item with Walt Disney's autograph is highly-prized by collectors, making this piece a treasure! The fact it is a piece of Walt's personalized "Walt Disney" note paper also makes it an exceptional item.
Disney's D23 fan club membership gift for 2016 included a reproduction of a note sheet similar to this. But this is NOT a reproduction-- this is an original, personally autographed by Walt Disney. An exceptional item!
Included is a handwritten letter from the original recipient:

In 1962 I worked at Disneyland… I was 17 years old. I was employed by United Paramount Theaters which owned all the concessions, food, restaurants, popcorn stands, etc. at the theme park. I worked at the fast food restaurant next to the Golden Horseshoe theater in Frontierland by the Mark Twain ferry boat. One summer night right after I got off work approximately 10:30 PM, I was near the ferry boat waiting to meet a friend of mine… While I was waiting for him I noticed a man in a suit casually strolling on the pathway in front of the Mark Twain boat. He looks like and in fact was Walt Disney. He was alone and no one seemed to notice him, except for me! It was dark, low lighting and not crowded at night. I walked up to him and asked him if he was Walt Disney and he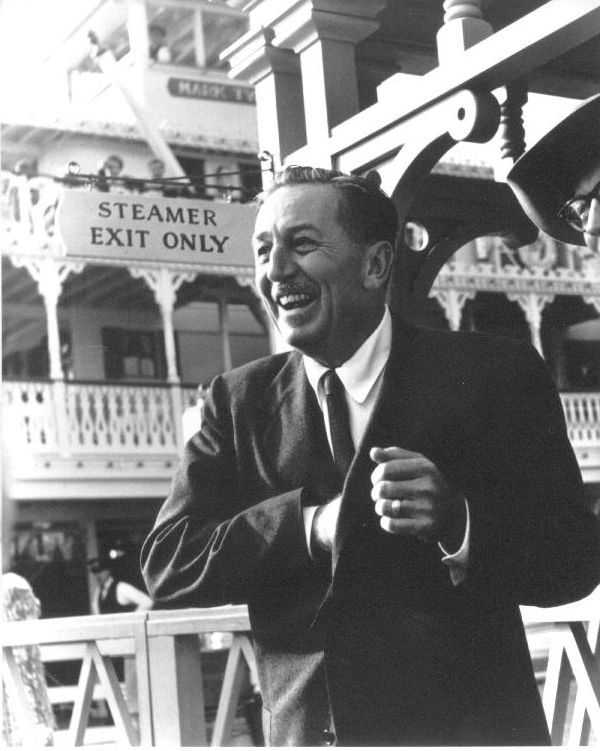 said yes he was. I asked him if he would please give me his autograph then Walt Disney agreed to give me his autograph, but wanted to move into a less lighted area so as to not attract any more attention. He then reached into his coat pocket and pulled out a single square piece of his Mickey Mouse memo paper and gave me his autograph in blue ball point pen. I said thank you and that I really appreciated him doing this for me. I also told him I was an employee for UPT and how much I enjoyed working at Disneyland..."

The 8 X 10 photo shown at the right, while not taken in connection with this autograph, so closely captures the spirit of the original recipient's letter that it will be included (as well as the color 8 x 10 shown at the top of this page). Note sheet measures approximately 5" x 4". In very fine condition with one vertical fold and signs of minor handling. Includes the Phil Sears Collectibles Lifetime Guarantee of Authenticity.
Item # 1410, $8995
SORRY, SOLD
About $849/Month on layaway!