"Westward Ho the Wagons!"
Autographed by Walt Disney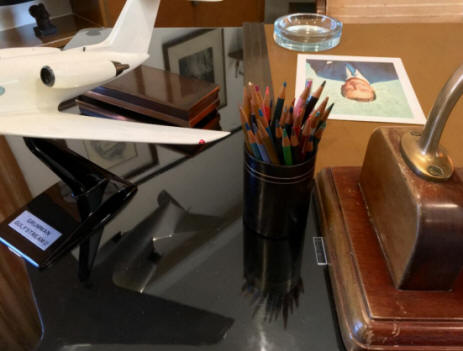 Walt Disney has boldly autographed this 1956 book "TO FRANK JR. WALT DISNEY." The book, based on the Disney movie, tells the story of brave, early pioneers trekking across the American west. Fess Parker stars in the film, which also features the final big-screen appearance of George Reeves. Four Mousketeers from the "Mickey Mouse Club" also appeared in the film: Tommy Cole, Doreen Tracey, Cubby O'Brian, and Karen Pendleton.
Walt Disney has picked a brown crayon to sign the book, complimenting the colors on the cover illustration. You'll notice colored pencils on Walt Disney's desk in the photo I took in his office. Book measures 8.5" x 11". Age spotting affects the page autographed by Walt Disney, the the price is deeply discounted; otherwise very fine condition. Includes the Phil Sears Collectibles Lifetime Guarantee of Authenticity. Item # 6429, $1995
SORRY, SOLD 9-19-19 10:34 AM PT
About $199/Month on layaway!*
*Do not use the "Add To Cart" button if you wish to pay using our 10 month layaway payment plan. Instead CLICK HERE for the layaway order form. Most orders totaling $149 or more can be placed on layaway. Layaway does not require credit and is not the same as PayPal Credit.
U.S. shipping charge on this item $14.95. Foreign shipping $39.95. Automatic checkout will not calculate foreign shipping accurately. After you place your order we will email foreign customers for additional shipping payment.