Walt Disney Signed 1949 Letter to a Renowned Artist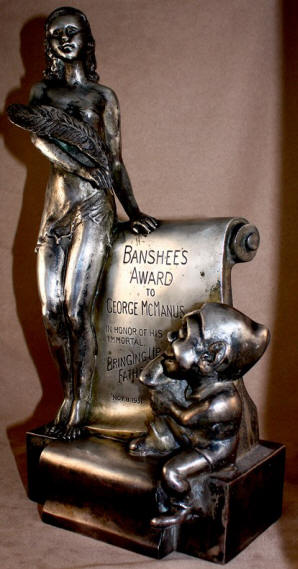 Written on his personally embossed stationery, Walt thanks renowned artist Willy Pogany for sending him a "Banshee Award" statuette which Pogany designed. The Banshee's Club was a New York City luncheon group which each year presented the award to a deserving or artist.
Willy Pogany is best known for illustrations of myths and fables. Pogany's artistic style was heavily fairy-tale orientated and often feature motifs of mythical animals such as nymphs and pixies. The same style of trophy mentioned in the letter is shown at right. (The one in the photo was one that the Banshees asked Walt Disney to present to artist George McManus three years later; trophy not included in this sale.)
Included with the letter is an email from the former owner:
"Pictured below is a letter signed by Walt Disney that I inherited in a collection of autographs. Would you be interested in serving as broker for the sale of this item? Or would you be interested in making an offer on this letter?
The letter has multiple folds and shows handling and some stains with some glue/tape remnants on reverse. Walt Disney has personally signed it with a dark and beautiful fountain pen autograph. Measures approximately 10.5" x 7.25". Includes the Phil Sears Collectibles Lifetime Guarantee of Authenticity. Also included is an 8" x 10" photograph of Walt Disney suitable for framing, shown above. Trophy not included. Item # 2657, $2695
SORRY, SOLD
About $269Month on layaway!
*Do not use the "Add To Cart" button if you wish to pay using our 10 month layaway payment plan. Instead CLICK HERE for the layaway order form. Most orders totaling $149 or more can be placed on layaway. Layaway does not require credit and is not the same as PayPal Credit.
Special U.S. Shipping charge on this item $14.95. Foreign shipping $39.95. Automatic checkout will not calculate foreign shipping accurately. After you place your order we will email foreign customers for additional shipping payment.