Click any image for a better view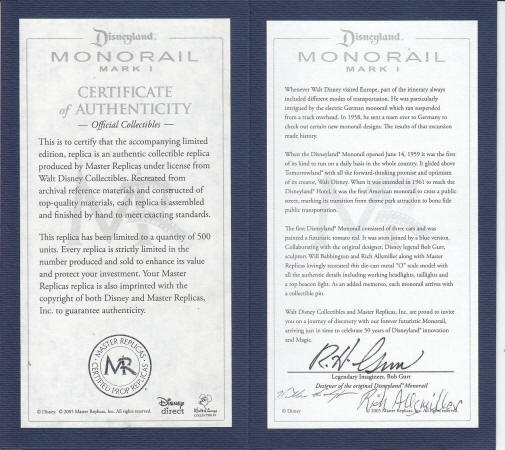 The Disneyland Monorail made history when it debuted in 1959, the first of its kind anywhere in the country. To commemorate Disneyland's 50th birthday, the original designer Disney Legend Bob Gurr collaborated with other Disney artists and Master Replicas to lovingly recreate this die-cast metal O scale model with all the authentic details from the foot pedals down to the precise placement of each rivet.

What makes this one extra special is a
ll three creators who are credited on the official Authenticity Certificate-- Will Babington, Rich Allsmiller and Bob Gurr-- have personally signed the certificate.
(I bought this piece directly from creator Will Babington). Babington and Allsmiller scratch-built the master patterns.
According to creator Will Babington:
"...The blue version is the really rare one, as there were quite a few less made than the red one. The primary difference between this one and others that have been sold at auction is that this one is signed on the storycard by me and Rich. I am able to do this since myself and model partner Rich Allsmiller are the ones that scratch built the master patterns for it. I consulted Bob Gurr for any questionable areas to get the details accurate as I could for the patterns. I tried to replicate everything present in the Mk 1, all the way down to minute details such as the exact spacing in the rubbub floor as well as the inclined floor and diamond plating on the sides and front of the fiberglass seats. It's interesting that a lot of these details aren't easy to see..but they were in the patterns..."
Other impeccable details include working headlights, taillights and a top beacon light. Unlike the red version, only 500 of these Blue Mark 1 monorail replicas s were made, and they sold out instantly-- and those did not include a Certificate signed by Babington and Allsmiller! Also includes a collectible enamel cloisonné pin depicting Monorail pilot's badge. Requires 2 button-cell batteries, included. Monorail 22'' L. Base 21 5/8'' L x 4 1/4'' W. Die-cast metal, injection-molded thermo-plastic and wood base. New in box. Item # 2007, $895.
U.S. shipping $19.95 on this large item.
About $89/Month on Lay-Away!*
SORRY, SOLD 7-7-16 12:29 PM PT
*Do not use the "Add To Cart" button if you wish to pay using our 10 month lay-away payment plan. Instead CLICK HERE to learn about lay-aways and to use the manual order form. Most orders totaling $149 or more can be placed on lay-away. Lay-Away does not require credit and is not the same as PayPal Credit (see banner ad below).
Special U.S. insured shipping charge on this item $19.95. Foreign shipping $59.95. Automatic checkout will not calculate foreign shipping accurately. After you place your order we will email foreign customers for additional shipping payment.