Click any image for a better view
Original production cel of Snow White and forest animals from "Snow White & the 7 Dwarfs" (1937)
An original

"Snow White and the Seven Dwarfs

"

1937

cel actually used in the classic motion picture. This is actually a combination of two cels; Snow White plus the forest animals, as prepared for sale through the Courvoisier Galleries in the 1930s.

These two

hand-inked and

hand-

painted animation cels of Snow White and three of her forest friends were created in the Disney ink-and-paint department and photographed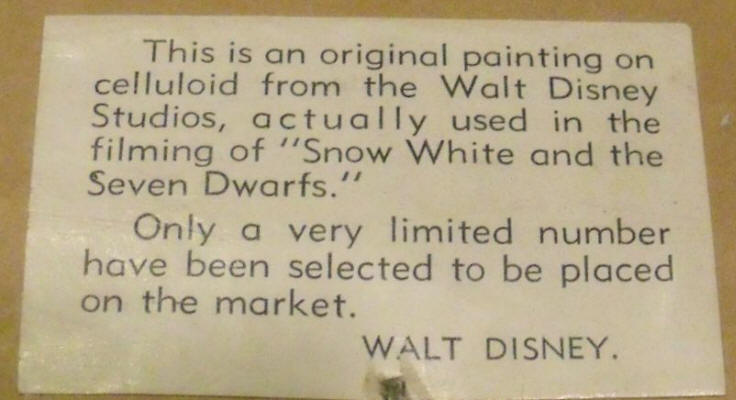 during the making of Walt Disney's first animated feature. The art was selected and prepared at the Disney Studio for distribution in its art-marketing program with Courvoisier Galleries of San Francisco. The cels were placed

over a complementary painted background evocative of the idyllic scene in which Snow White gathers flowers before the Huntsman sends her fleeing into the woods.

To make this cel presentable for sale, 8 decades ago the Disney Studio trimmed the cels to

5.5" x 5.5"

, set them against

a painted complementary background

, then mounted

the setup

in

a

mat which was framed to an overall size of

13" x 12"

.

B

lank clear o

verlay cel sheet had darkened and it has been replaced with a new, clean sheet; the paint is completely original: VERY FINE condition.

A

n

original

authenticating label on the back of the background

identifies it as an

one of a very few originals placed on the market (see label at right).

The art is framed under glass in the original frame as purchased in the late 1930s

. In addition to the original authenticity label, this piece also includes the Howard Lowery Gallery Certificate of Authenticity, and the Phil Sears Collectibles Lifetime Guarantee of Authenticity. Item #7108, $2995




SORRY, SOLD


About $

299

/Month with Free Lay-Away!

*

*Do not use the "Add To Cart" button if you wish to pay using our 10 month lay-away payment plan. Instead CLICK HERE to learn about lay-aways and to use the manual order form. Most orders totaling $149 or more can be placed on lay-away. Lay-Away does not require credit and is not the same as PayPal Credit (see below).

Special U.S. shipping charge on this large item $19.95. Foreign shipping $59.95. Automatic checkout will not calculate foreign shipping accurately. After you place your order we will email foreign customers for additional shipping payment.