Click any image for a better view
Jim Salvati captures Walt so perfectly it's as if he's talking to us from his office! A striking limited edition giclee, printed onto canvas, and then hand embellished with painted accents. Numbered and signed by artist Jim Salvati,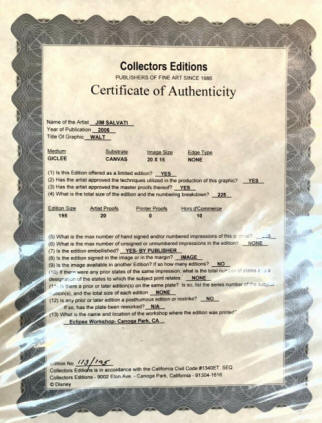 this is # 113 of 195.

Jim Salvati has been a prolific artist for movie studios and theaters, with a client list that includes Disney, Warner Bros., Sony Pictures, Paramount Pictures and Radio City Music Hall. He was the master illustrator and conceptual artist behind many of the memorable images and finished paintings associated with the "Harry Potter" films.

"Even with my Disney art, I think it's important to show who a person or character is and what is the most interesting part of their life the part that is bold and has guts." Character and boldness can be observed in the scenes that Salvati chooses to depict. Working in oil paint, Salvati uses panel and sometimes mounted paper preferring the option of layering paint to create a lot of texture, as he feels that an uneven surface adds to the emotion of the story. "My paintings are extremely thick and layered and oil allows me the time I need to play with the color," he says.

This bold giclee, created in 2006 and long since sold out, measures 20" x 15" and is framed to an overall size of approximately 26" x 21". Includes the Disney Certificate of Authenticity. Item #1360B, $699


SORRY, SOLD
About $69/Month on layaway!*

*Do not use the "Add To Cart"button if you wish to pay using our 10 month layaway payment plan. Instead CLICK HERE for the layaway order form. Most orders totaling $149 or more can be placed on layaway. Layaway does not require credit and is not the same as PayPal Credit.
Special U.S. shipping charge on this

framed

item $

29.95

. Foreign shipping $

149.95

. Automatic checkout will not calculate foreign shipping accurately. After you place your order we will email foreign customers for additional shipping payment.