Beginning in 1993, Disneyland guests could enjoy dinner and a show at Aladdin's Oasis, tucked between the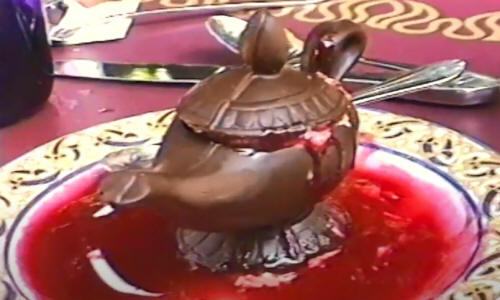 Enchanted Tiki Room and the Jungle Cruise. When the main course was done, diners were instructed to rub the magic lamp in the center of their table and wish for their dessert. Out came a puff of smoke, and moments later a "genie" arrived with a candy lamp filled with chocolate mouse and berry topping! The full dinner show only lasted a few seasons, to be replaced by a smaller story-telling format. This lamp was removed when the dinner show was retired.
This heavy brass prop genie lamp has an opening from the base of the lamp that leads through the spout which would allow a puff of smoke to appear when the lamp was rubbed. The prop measures 6" x 11.5." Lamp has minor cosmetic flaws as shown; otherwise very good condition. Includes the Phil Sears Collectibles Lifetime Guarantee of Authenticity. Item # 9936, $4995
Sorry, lay-away not available on this item.
U.S. shipping on this heavy item $39.95. Foreign shipping must be quoted.