When Walt Disney came to Hollywood in 1923, he roomed at his uncle Robert's house at 4406 Kingswell Avenue. He built an animation stand in his uncle's garage, and worked on an animated reel of cartoon jokes which he tried to sell to the Pantages Theater Company.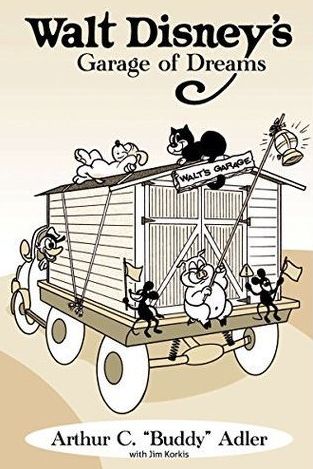 The garage-turned-studio was sold in 1982 and moved to the Garden Grove Historical Society, and has been on permanent display there for the past thirty+ years, just a few miles from Disneyland.

Leading the 1982 team that purchased and moved the garage was Disney employee and fan Arthur Adler. When the garage was moved, Adler saved the small pieces of wood that splintered off the garage during dismantling. These pieces, which were too small to be used in the restoration of the garage, are now available for sale to Walt Disney fans who appreciate the significance of having a little bit of Walt's first Hollywood workshop/studio as part of their personal collection.

Authenticity: The saving of Walt Disney's gar

a

ge from demolition, the moving of it to its current location, and the sale of the remnant piece

s

to me is documented in the Walt Disney history book, "Walt Disney's Garage of Dreams" by Arthur Adler

, show at left

. (The book is not included with this purchase, but is available on Amazon.)

On page 41 Adler mentions that he got too old to sell the pieces himself, he sold them to me, Phil Sears. Every piece includes my Lifetime Guarantee of Authenticity Certificate.

Also included is 15 page package of photocopied documentation prepared by Adler. It includes a short history of him saving the garage, a copy of a letter from the Disney Studio Archives, and some newspaper clippings.

The wood itself measures approximately 1" in length. Each piece, being original, will vary of course. The book "Walt Disney's Garage of Dreams" is not included. This purchase includes the wood artifact, the Certificate of Authenticity, and Adler's 15 page photocopied history packet.

Worldwide shipping only $3.99 on this item no matter how many you buy!

Item # 6000, $

2

9.95

Do not use the "Add To Cart" button if you wish to pay using our 10 month layaway payment plan. Instead CLICK HERE for the layaway order form. Most orders totaling $149 or more can be placed on layaway. Layaway does not require credit and is not the same as PayPal Credit.