Click any image for a better view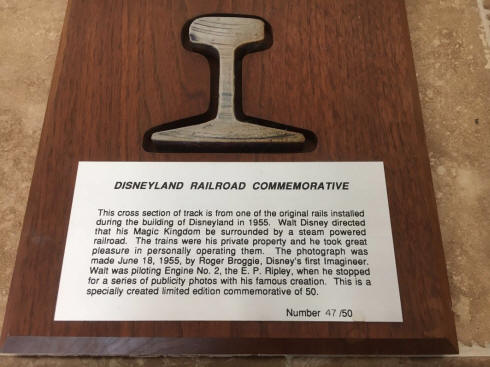 An actual piece of Disneyland's original 1955 railroad track from the Carolwood Pacific Society! The .75" thick cross section of track has been placed in a limited edition commemorative wooden plaque with a photo of Walt Disney and a metal plaque which reads:

This cross section of track is from one of the original rails installed during the building of Disneyland in 1955. Walt Disney directed at his Magic Kingdom be surrounded by a steam powered railroad. The trains were his private property and he took great pleasure in personally operating them. The photograph was made June 18, 1955 by Roger Broggie, Disney's first Imagineer. Walt was piloting engine number two, the E.P. Ripley, when he stopped for a series of publicity photos with his famous creation. This is a specially created limited edition commemorative of 50."


The entire piece measures 16"x 8.25" and is number 47 of 50. An exceptional piece of Disneyland Railroad history. In very fine condition with only minor wear. Includes the Carolwood Pacific Society Certificate of Authenticity, personally signed by Roger Broggie's son Michael Broggie, Founder of the Carolwood Pacific Society. One of these sold at the Van Eaton Auction in August 2020 for $3872! Item # 7804, $1795
SORRY, SOLD


About $179/Month on layaway!*


*Do not use the "Add To Cart" button if you wish to pay using our 10 month layaway payment plan. Instead CLICK HERE for the layaway order form. Most orders totaling $149 or more can be placed on layaway. Layaway does not require credit and is not the same as PayPal Credit.
Special U.S. shipping charge on this item $

24.95

. Foreign shipping

must be quoted

. Automatic checkout will not calculate foreign shipping accurately. After you place your order we will email foreign customers for additional shipping payment.