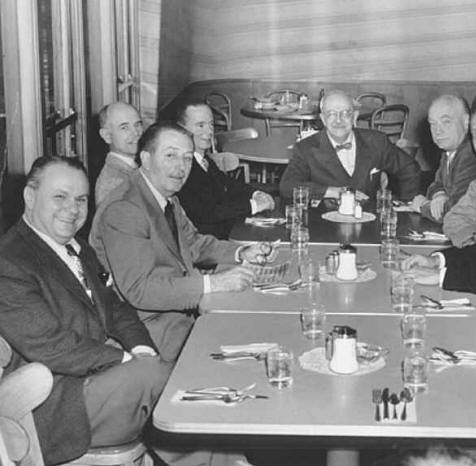 Click any image above for a better view
A rare menu for the Walt Disney's Burbank Studio restaurant-- a menu that could have been used by Walt Disney himself! This giant menu measures 12.5" X 18" when opened. It features Mickey Mouse on the front along with Donald Duck, Goofy and Pluto and on the inside are Minnie Mouse, Snow White, Stromboli, Three Little Pigs, Pinocchio, Monstro the Whale, Big Bad Wolf, Jiminy Cricket, Pluto, Donald Duck and Goofy! There is World War II anti-price gouging notice dating this menu to the mid-1940s. You'll notice a hot roast turkey sandwich with mashed potatoes and cranberry sauce was just 55 cents! Signed on the cover by Joe Parkhurst, presumably a Disney artist at the time. In very fine condition with only minor handling and one chipped corner (see images). The photo at the right showing Walt Disney dining in the Studio Restaurant is not part of this lot, but presented for your enjoyment. Item # 2649, $299
SORRY, SOLD
About $29/Month on layaway!*
*Do not use the "Add To Cart" button if you wish to pay using our 10 month layaway payment plan. Instead CLICK HERE for the layaway order form. Most orders totaling $149 or more can be placed on layaway. Layaway does not require credit and is not the same as PayPal Credit.