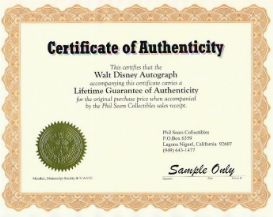 Phil Sears is the World's #1
Walt Disney Autograph Specialist
Even the Walt Disney Company comes to Phil Sears when it needs items autographed by Walt Disney! Phil Sears has supplied Disney autographs to Disney's official Disney Auctions and to Walt Disney World! Don't buy from someone you don't know! For over 25 years Phil Sears has taken pride in being THE expert in GENUINE Walt Disney autograph material. Phil Sears is well-known in the professional autograph field and to the Walt Disney Studio Archives and the Walt Disney Family Museum-- recognized as THE Walt Disney autograph specialist. I buy, sell, and collect and authenticate more Walt Disney autograph material than anyone else on earth.