Click Any Photo For A Better View
From 1974 to 1994 Magic Kingdom guests blasted off into Tomorrowland's stratosphere aboard the Tomorrowland Star Jets. Located high above

Walt Disney World's

Tomorrowland atop the Wedway PeopleMover (later renamed Tomorrowland Transit Authority) structure, a flight in a Star Jet was one of the Magic Kingdom's most exhilarating attractions! When the attraction was re-themed to become the Astro Orbiter in the mid-1990's, most of the Star Jet vehicles crash-landed in the scrap heap. We know of only

two

other

s

in private hands.

Here we are pleased to present a genuine piece of Walt Disney's Magic Kingdom: A rare surviving Tomorrowland Star Jet! This authentic Disney ride vehicle once proudly flew above Walt Disney World and is now cleared for approach to your spaceport. It is constructed of fiberglass and steel, it measures approximately 9 1/4' long and 5' wide, weighing approximately 375 pounds. It exhibits nominal damage from hostile lifeforms, as shown in the photos. Paint is overall scuffed and scratched from asteriod collisions. Some parts may be missing. Fiberglass repair and paint would go a long way toward bringing this Star Jet back to launch condition.

Considered the ULTIMATE Disney theme park souvenir, Disney ride vehicles have sold for as much as $35,0000!

This Disney ride vehicle represents all the excitement and promise of the future that Walt Disney meant Tomorrowland to encompass. To some this wondrous object will bring back memories of fantastic youthful summers at Disney World, squeezed into to one of these snug spaceships with your Disney date; others will be reminded of some of the best times ever spent with the family. Needless to say, we have only this one Star Jet available.

Current owner will deliver within 60 miles of Burbank California for $150 (or $100 with 30 miles). If freight shipping is required, the current owner will assist coordination with the shipper of buyer's choice, but safe packing and shipping, and all shipping costs, are the responsibility of the buyer. Special Terms: Because of the unusual nature of this object it is sold "as-is" (as shown in these photos) and "no returns/all sales final" as of the time of payment. Please note this heavy vehicle is built to industrial standards and is not a toy. The buyer assumes all liability for its safe display and use as an adult collectible. Item # 6719, $11,995
SORRY, SOLD

Sorry, layaway not available for this item.
Customers outside Southern California must make their own shipping arrangements. Because of the cost and handling associated with delivery of this unique item, returns will not be accepted and the sale will be considered final. Prospective buyers are welcomed to make an appointment to view the vehicle in person in Orange County, California, or we can send you additional detailed photos at your request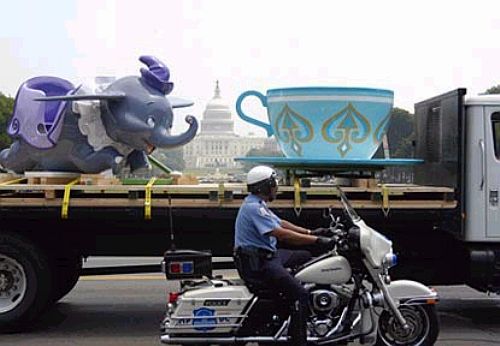 Left: Disney ride vehicles are considered museum pieces: Dumbo and Tea Cup on their way to the Smithsonian Museum in Washington D.C.