Click Any Photo For A Better View
From 19

67

to 199

7 Disneyland

guests blasted off into Tomorrowland's stratosphere aboard the

exciting Rocket

Jets

attraction

.

It's launch platform perched so high above Tomorrowland it took an elevator ride to reach it, a flight aboard

a

Rocket

Jet was one of the

Happiest Place on Earth's highest and most

exhilarating attractions!

Sadly, w

hen

Tomorrowland was re-designed at the end of the 1990's, it was without this beloved attraction. It was ostensibly succeeded by the Astro Orbitor, an attraction planted so firmly on terra firma it owed more to Dumbo's Flying Elephants than the high-soaring Rocket Jets.

Here I am pleased to present a genuine piece of Disneyland: A rare surviving Tomorrowland Rocket Jet! This authentic Disney ride vehicle once proudly flew above Tomorrowland and is now cleared for approach to your spaceport.

Rocket Jets are among the rarest of vehicles from retired rides. Unlike the Skyway buckets or PeopleMover vehicles, there were only ever twelve Rocket Jets in use. You may have flown in this very rocket during exciting trips to Disneyland!

It is constructed of fiberglass and steel and other materials, it measures approximately 9 feet long by 3 feet wide. Overall very good condition with only minor scuffs or scratches; Rocket Jet has been recently painted using automotive quality paint. The headlamp is wired and could be wired to a 12 volt power source (not included). Some parts show wear consistent with use at Disneyland, and some parts may be missing; Rocket Jet is exactly as shown. A basic plywood cradle stand will be included (not show).

Considered the ULTIMATE Disney theme park souvenir, Disney ride vehicles have sold for as much as $35,0000!

This Disney ride vehicle represents all the excitement and promise of the future that Walt Disney meant Tomorrowland to encompass. To some this wondrous object will bring back memories of fantastic youthful summers at Disneyland, squeezed into to one of these snug spaceships with your Disney date; others will be reminded of some of the best times ever spent with the family. Needless to say, we have only this one Rocket Jet available.

IMPORTANT: Buyer must arrange and pay for pickup or shipping from Santa Clarita, California within 15 days of purchase. If freight shipping is required, the current owner will assist coordination with the shipper of buyer's choice, but safe packing and shipping, and all shipping costs, are the responsibility of the buyer. Special Terms: Because of the unusual nature of this object it is sold "as-is" (as shown in these photos) and "no returns/all sales final" as of the time of payment. Please note this heavy vehicle is built to industrial standards and is not a toy. The buyer assumes all liability for its safe display and use as an adult collectible. Item # 6719, $14,995
SORRY, SOLD

Sorry, layaway not available for this item.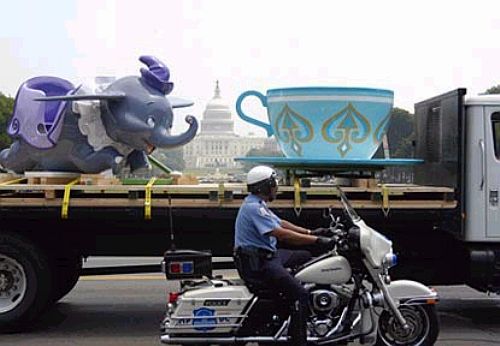 Left: Disney ride vehicles are considered museum pieces: Dumbo and Tea Cup on their way to the Smithsonian Museum in Washington D.C.