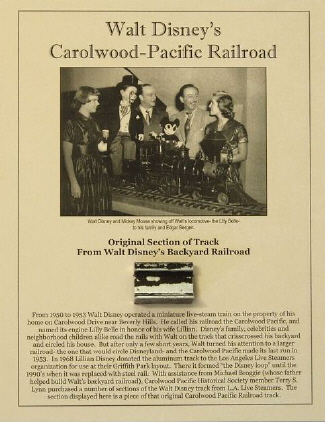 Own a Piece of Walt Disney's Backyard Railroad-
The Carolwood Pacific!
It's no secret that Walt Disney loved trains! From 1950 to 1953 Walt Disney operated a miniature live-steam train on the property of his home on Carolwood Drive near Beverly Hills. He called his railroad the Carolwood Pacific, and named its engine Lilly Belle in honor of his wife Lillian. Disney's family, celebrities and neighborhood children alike road the rails with Walt on the track that crisscrossed his backyard and circled his house. But after only a few short years, Walt turned his attention to a larger railroad- the one that would circle Disneyland- and the Carolwood Pacific made its last run in 1953. In 1968 Lillian Disney donated the aluminum track to the Los Angeles Live Steamers organization for use at their Griffith Park layout. There it formed "the Disney loop" until the 1990's when it was replaced with steel rail. With assistance from Michael Broggie (whose father helped build Walt's backyard railroad), Carolwood Pacific Historical Society member Terry S. Lynn purchased a number of sections of the Walt Disney track from L.A. Live Steamers. Here I'm pleased to offer a section of Walt Disney's track, mounted to an 8.5" X 11" descriptive card. Each section of track is approximately 1 1/2 inches long, and each exhibits its own wear pattern, so the weathering will differ from the one shown. Included is the Phil Sears Collectibles Lifetime Guarantee of Authenticity Certificate. A very special display piece for any Disney or train enthusiast. Makes a great Disney gift! I'm down to the last few pieces of these so order soon.
Item # 2309, $225
About $22/Month on layaway!*

*Do not use the "Add To Cart"button if you wish to pay using our 10 month layaway payment plan. Instead CLICK HERE for the layaway order form. Most orders totaling $149 or more can be placed on layaway. Layaway does not require credit and is not the same as PayPal Credit.