Click any image for a better view

Guaranteed To Run!


The finest Disneyland toy ever produced! Beginning in 1961 the Schuco company manufactured this precision-made electric Disneyland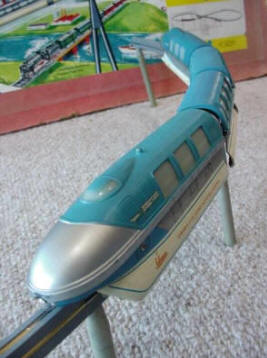 monorail train to the highest German standards. Almost 20" long, these ELEVATED trains were produced for only a few short years and then production closed forever. The finely crafted train was expensive by 1960's standards and few could afford them. Not the cheap battery-operated "kids" monorails produced by Disney recently, but 18 volt DC powered electric train sets with variable speed in forward and reverse, with metal trim (just the way Disney Imagineer Bob Gurr designed the full size originals)!

Here is the Granddaddy of them all—the 6333/S set! This is the largest Disneyland monorail set that Schuco made, over 200 pieces. Features the rare, extra-long FOUR car monorail trail and 31 pieces of track and two switches!

The paint on the monorail train is very good and shows only minor wear. New tires have been installed and the mechanicals have been cleaned; this unit runs great! The switches have been oiled and greased and are ready for play. The block signals are guaranteed to light up and the track is super clean. All the parts are present. The red and black wires are reproduction, but everything else is original Schuco.

Most of these large sets don't have complete box lids, but THIS ONE DOES! The box shows wear, but ALL of the pieces to the lid are there. Some tape is adhered to left-center edge of the box top graphic and the box shows overall wear and age but is intact. Originally purchased in Sweden, the price tag from the Swedish store is still present.

The original manual is included, plus a photocopy of English instructions.

A transformer was not included with these sets (!) but the trains will run from any standard American 12 to 20+ volt electric train transformer available at a hobby store (a transformer capable of a least 18 volts is best). This is a rare electric Disneyland Monorail train you'll enjoy running for years! Item # 8061, $1499
SORRY, SOLD
About $149/month on layaway!*

*Do not use the "Add To Cart" button if you wish to pay using our 10 month layaway payment plan. Instead CLICK HERE for the layaway order form. Most orders totaling $149 or more can be placed on layaway. Layaway does not require credit and is not the same as PayPal Credit.
U.S. shipping $29.95 Foreign must quote. Checkout will not calculate foreign shipping correctly- additional foreign shipping charge will apply.