(

Most photos clickable for a larger view)
The finest Disneyland toy ever produced! Beginning in 1961 the Schuco company manufactured this precision-made electric monorail train to the highest German standards. Almost 15" long, these ELEVATED trains were produced for only a few short years and then production closed forever. The finely crafted train was expensive by 1960's standards and few could afford them. Not the cheap battery-operated "kids" monorails produced by Disney recentl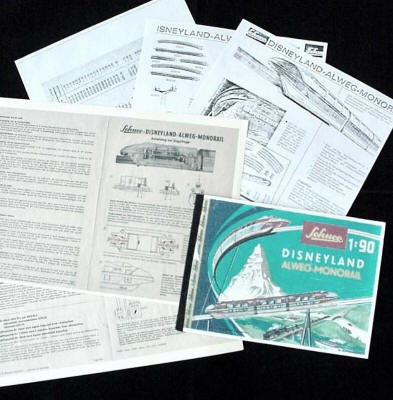 y, but 18 volt DC powered electric train sets with variable speed in forward and reverse, with metal trim (just the way Imagineer Bob Gurr designed the full size originals)! A transformer was not included with these sets (!) but the trains will run from any standard American 12 to 20 volt electric train transformer.

The train has been tested and is guaranteed to run!

This set is in very good condition with a great running train. Nice red paint; the box is also is also in good condition with bright graphics and some tape on the corners. Original 1960's price tag still on the box. The styrofoam insert is also very good with only a couple of minor dings. All the accessories are present, including the original Schuco red and black wires. Includes photocopies of the 24 page German manual and photocopies of several other instructional and informational sheets. The tracks have been cleaned and new rubber tires installed-- this train is guaranteed to run beautifully! I have also included my own "Quick Start" tip sheet for setting up your Schuco Monorail and making it run like a charm. An amazing Disneyland model train set, still ready to ride the rails after 50+ years! If you are looking for a fantastic working set, look no further! Item # 6070, $995
SORRY, SOLD
About $99/Month on layaway!*

*

Do not use the "Add To Cart" button if you wish to pay using our 10 month layaway payment plan. Instead CLICK HERE for the layaway order form. Most orders totaling $149 or more can be placed on layaway. Layaway does not require credit and is not the same as PayPal Credit.

Special U.S. shipping charge on this item $19.95. Foreign shipping $49.95. Automatic checkout will not calculate foreign shipping accurately. After you place your order we will email foreign customers for additional shipping payment.