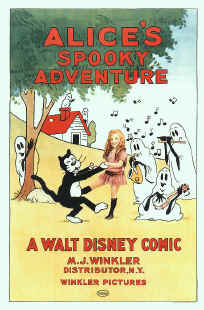 Update: This letter is now on permanent display
at the Walt Disney Family Museum in San Francisco.

I'm often asked which piece in my personal collection is my favorite. The answer always has to be, "The October 16, 1923 letter that announces the start of the Walt Disney Company." Each year the Disney Company celebrates October 16th as it's birthday; Walt Disney founded the company on October 16th, 1923, when he was just 21 years old.
In October of 1923, Walt Disney was flat broke and living in a room at his Uncle Robert's house in Hollywood. He had left Kansas City a few months earlier after declaring his Laugh-O-Grams company bankrupt. He didn't even have the cash to finish the "Alice" comedy demo film he had begun. Not ALICE IN WONDERLAND, but the adventures of a live-action little girl named Alice set in a cartoon world. The 4 year- old girl who played Alice, Virginia Davis, stayed back in Kansas City when the bankrupt and discouraged Walt Disney turned his back on animation and hopped a train for Hollywood. But after not finding work as a live-action director in Hollywood, Walt reconsidered the animation field, and desperately sent the half-completed "ALICE" film to distributors as a sample of his ability.
Walt had no way of knowing it in advance, but October 16th was to be the day the magic started. That was the day Walt received a telegram from FELIX THE CAT film distributor Margaret Winkler, agreeing to distribute a series of Walt Disney ALICE comedies, as long as the same little girl- Virginia Davis- starred. The Disney Studio was in business! Walt immediately pulled out his "Walt Disney, Cartoonist" letterhead (which his brother Roy had loaned him $10 to have printed), and feverishly wrote a letter to the parents of the little girl in fountain pen- Walt couldn't afford a typewriter!
The three page letter contains misspelled words (Walt had only attended one year of high school) but more than makes up for it in enthusiastic Disney persuasiveness.
You can click on the pages below for a larger, readable view