Fantasia Book
Autographed by Walt Disney
When FANTASIA was first released in 1940, it was showcased in only a handful of theaters across the country, and treated more like a major live musical than a film. Each theater was specially-equipped with Disney's multi-track "Fanta-sound," and even today the film stands as one of Walt Disney's monumental achievements. FANTASIA was the birthplace of iconic images like Sorcerer Mickey, the demonic Chernabog, delightful Mushroom Dancers, Dewdrop Fairies, and so many more. And they are all here in this colorful 1940 book which is personally autographed by Walt Disney: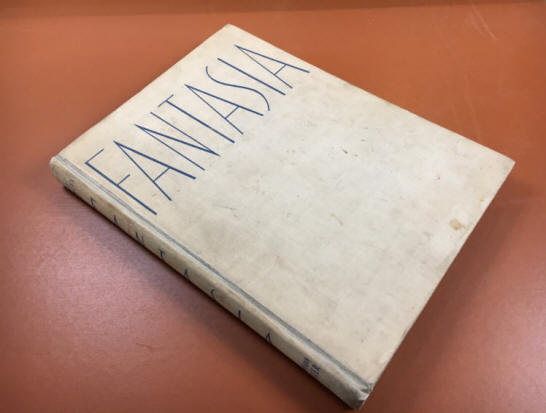 TO MRS. STAFFORD WARREN
WITH BEST WISHES
WALT DISNEY

Walt Disney has signed a large autograph in blue crayon using his famous block-printed signature... the signature seen at the beginning of every Walt Disney movie, and the one we drive under upon entering Walt Disney World.


This is a first edition of "Walt Disney's Fantasia," the magnificent 1940 coffee table book filled with color illustrations.

Book measures approximately 13" x 10" with cover closed. Some fraying to dust jacket; book shows some soiling; otherwise good condition. I

ncludes the Phil Sears Collectibles Lifetime Guarantee of Authenticity.

Fantasia stands as one of Walt Disney's monumental achievements, and owning

this personally autographed

1940 Fantasia book would be the jewel in the crown of any Disney collection.


Item # 5129, $6,995


SORRY, SOLD 9-15-22 12:09 PM PT


About $

699

/Month on layaway!

*

*Do not use the "Add To Cart" button if you wish to pay using our 10 month layaway payment plan. Instead CLICK HERE for the layaway order form. Most orders totaling $149 or more can be placed on layaway. Layaway does not require credit and is not the same as PayPal Credit.

U.S. shipping charge on this item $24.95. Foreign shipping $99.95. Automatic checkout will not calculate foreign shipping accurately. After you place your order we will email foreign customers for additional shipping payment.