Walt Disney Autographed Mickey Mouse Cel


Walt Disney and Mickey Mouse-- the two icons are inseparable. In fact, many believe Mickey is Walt Disney's alter ego. Mickey is the unassuming little guy who can overcome just about anything through

sheer will, and Walt Disney himself supplied Mickey's cartoon voice in the early years.

Here Walt Disney

has personally

autographed

this original production cel of Mickey Mouse created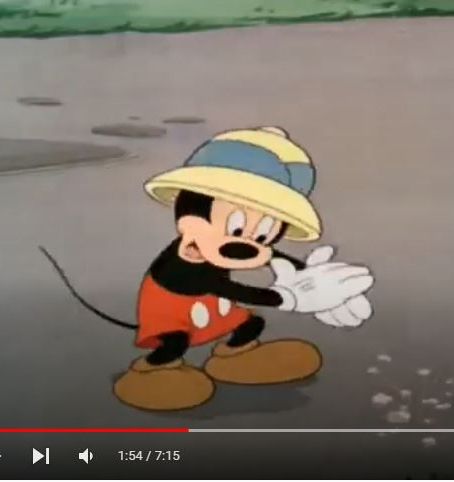 during the making of 1943's "

PLUTO & THE ARMADILLO." Walt has picked a color crayon from his desk to compliment the colors in the art, and boldly autographed the mat:

T

O HELEN

+ BILLY
MY BEST WISHES
WALT DISNEY



Walt has signed in his famous block printing, used today (in a simplified form) as the logo for the Walt Disney Company.

Cel is trimmed to outline of characters as customary at Disney when preparing production art for presentation. This scene of Mickey appears approximately two minutes into the cartoon (see image at left). The cel of the armadillo is from a different scene. Cels have curled with age and some cel paint has adhered to background; mat shows age toning. The Disney Studio's "Original WDP" authenticity stamp sits just above Walt's autograph. Piece is framed to an overall size of 15" x 15". Frame, which may date back to the 1940s, shows wear. Includes the Phil Sears Collectibles Lifetime Guarantee of Authenticity Certificate.
Item # 6946, $6995

SORRY, SOLD

About $699/Month on layaway!*

*Do not use the "Add To Cart" button if you wish to pay using our 10 month layaway payment plan. Instead CLICK HERE for the layaway order form. Most orders totaling $149 or more can be placed on layaway. Layaway does not require credit and is not the same as PayPal Credit.

U.S. shipping charge on this item $24.95. Foreign shipping $99. Automatic checkout will not calculate foreign shipping accurately. After you place your order we will email foreign customers for additional shipping payment.